Dir: Chris Fisher. US. 2012. 89mins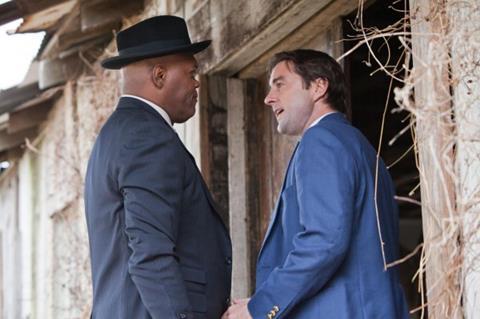 Samuel L Jackson's enjoyable turn as a dapper psycho killer is the main selling point of Meeting Evil, an otherwise merely serviceable indie thriller based on the work of cult novelist Thomas Berger.
Jackson, shot and made-up to look even more menacing than usual, is fun to watch.
Picked up for the US by Magnolia Pictures' Magnet label, the MPCA production is set for a limited theatrical release on May 4, when it will probably get lost amid the hoopla surrounding The Avengers. Significant returns are more likely from the home entertainment marketplace, both in the US - where Magnet gave the film a pre-theatrical VOD launch - and internationally.
Luke Wilson (last seen on the big screen in Death at a Funeral) co-stars as John, a mild mannered real estate agent who has lost his job and is at odds with his wife (Leslie Bibb, from Zookeeper) and kids. Jackson's smooth but sinister Richie knocks on John's door asking for help with his car but before long entangles the downtrodden suburbanite in a murder spree.
Director Chris Fisher (S Darko), who also adapted the 1992 novel by Berger (best known for his sixties book Little Big Man), uses the story to touch briefly on such issues as race and financial hard times and introduces the idea that John and Richie may be alter egos. But he doesn't take the idea very far and the film ends up resting on a series of fairly standard plot turns.
Oddly, considering the film's R rating in the US, none of Richie's killings are shown on screen, a fact that might frustrate some genre fans.
Jackson, shot and made-up to look even more menacing than usual, is fun to watch but Wilson never manages to suggest the dark side that might have given his character, and the film, more psychological edge.
Production companies: Motion Picture Corporation of America, Stage 6
US distribution: Magnet Releasing
International sales: Motion Picture Corporation of America, www.mpcafilm.com
Producers: Brad Krevoy, Mike Callaghan, Justin Bursch
Executive producers: Reuben Liber, James Townsend, Roman Viaris
Screenplay: Chris Fisher, based on the novel by Thomas Berger
Cinematography: Marvin V Rush
Production designer: Tom Lisowski
Editor: Miklos Wright
Music: Ryan Beveridge
Website: www.facebook.com/pages/Meeting-Evil
Main cast: Luke Wilson, Samuel L Jackson, Leslie Bibb