Dir: Malcolm Mowbray. US. 2010. 87mins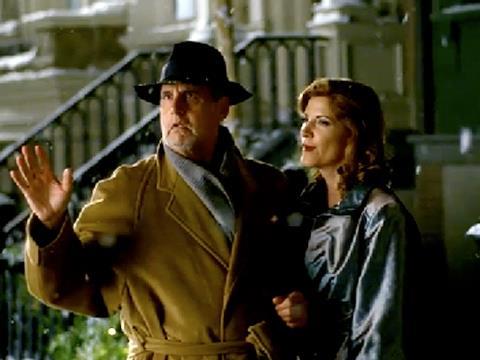 A screwball comedy without nearly enough zest or wit, Meeting Spencer shows just how difficult it is to make a ripping farce about the entertainment industry if the script, direction and performances aren't top-notch. Celebrated TV actor Jeffrey Tambor (The Larry Sanders Show) does yeoman's work as a once-renowned New York theatre director trying to secure financing for the production he hopes will be his comeback, but the complications that occur over one night at a posh Manhattan restaurant get progressively more ludicrous without being comparatively hilarious.
Emmy-nominee Tambor has the gravitas and comic timing to portray the character's slowly growing desperation.
Opening April 8 in New York before moving to Los Angeles April 22, this modest indie won't see much box office because of its low-wattage cast and even lower profile. It seems nearly assured that Meeting Spencer will be quickly migrating to ancillaries, where prospects again don't look rosy.
Tony-winning stage director Harris Chappell (Tambor) has returned to New York after a disastrous stint working in Hollywood. Desperate for a hit, he goes out to dinner with a former lover (Melinda McGraw) who is involved with a wealthy man who might back Chappell's latest play.
Joined by an aspiring young actor named Spencer (Jesse Plemons) who's the son of an old friend, Chappell encounters a series of fresh problems facing his upcoming production, including a nosy reporter (Jill Marie Jones) and a prima donna star (William Morgan Sheppard).
Directed by British filmmaker Michael Mowbray (A Private Function), Meeting Spencer has all the makings of a classic farce in which the protagonist must frantically put out one fire after another as the story keeps throwing more characters and complications his way over dinner.
As the vainglorious Chappell who's trying to maintain his preening posture while secretly worrying that his career may be over, Emmy-nominee Tambor has the gravitas and comic timing to portray the character's slowly growing desperation, but unfortunately the film doesn't have the same subtlety or skill.
Part of the problem is that despite its attempts at being a smart satire of agents, actors, and theatre folk, Meeting Spencer is a rather hollow and unconvincing send-up of the egos and insecurities of these different individuals. This becomes a critical liability since many of Chappell's obstacles involve him having to compromise his vision for the play, which rather than feeling like a knowing commentary on the mix of commerce and art instead becomes an increasingly nonsensical and frantic attempt on the filmmakers' part to up the hijinks.
McGraw has the right amount of sultry maturity as Chappell's old flame, although Plemons' naïve Spencer comes across as almost too wholesome to be believed. The supporting cast has less to do, playing showbiz types and one-joke characters that stall the film rather than adding to the comic momentum.
Production company: George G. Braunstein Productions
Domestic distribution: Paladin, www.paladin-film.com
Producer: George G. Braunstein
Executive producer: Chien Ya Natalie Chin
Screenplay: Andrew Kole & Andrew Delaplaine and Scott Kasdin, story by Andrew Kole & Andrew Delaplaine
Cinematography: Paula Huidobro
Production designer: Bradd Fillmann
Editor: John Travers
Music: Stephen Coates
Website: www.meetingspencer.com
Main cast: Jeffrey Tambor, Melinda McGraw, Jesse Plemons, Mark Harelik, Caroline Aaron, Jill Marie Jones, Yvonne Zima, Markus Flanagan, William Morgan Sheppard, Julian Bailey