Dir: Jason Reitman. US. 2014. 119mins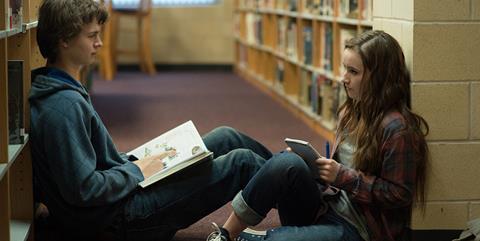 Men, Women & Children has sincere things to say about the insidious ability of social media and the Internet to infiltrate our lives, robbing us of our ability to feel connected to others and even our true selves. That has the potential to be a compelling thesis for a film, but director Jason Reitman's ensemble drama tends to be too self-consciously mournful in its approach, overselling its message with far too much handwringing.
There is no denying how touching Men, Women & Children can be, how tastefully restrained it is in its approach, and how good the performances are.
This liability is especially frustrating considering that Men, Women & Children features plenty of affecting performances and moments that touch on the ways in which people lose their way in life, whether or not because of the World Wide Web. But the film, based on the 2011 novel by Chad Kultgen, ends up copying the American Beauty/Little Children model of suburban-nightmare storytelling, treating its characters' problems as more profound and urgent than they actually are.
After premiering at the Toronto Film Festival, Men, Women & Children will open in the US in the fall through Paramount, which is hoping it has an awards contender that could also play well with mainstream audiences. Reitman's commercial and critical track record with Up In The Air and Juno will be a major selling point, and a cast that includes Adam Sandler in a rare dramatic role and The Fault In Our Stars' Ansel Elgort could attract different demographics. Additionally, the movie's zeitgeist-targeting theme will probably strike a chord for some, especially concerned parents.
Adapting Kultgen's book with co-writer Erin Cressida Wilson, Reitman looks at several Austin families who, in one form or another, are being impacted by the Internet. Don (Sandler) and Helen Truby (Rosemarie Dewitt) are a married couple who have lost their romantic spark, prompting him to find an escort online and her to seek out an affair through a cheating website. Hyper-vigilant mother Patricia (Jennifer Garner) constantly monitors her teen daughter Brandy's (Kaitlyn Dever) web and phone activity, even deleting messages Brandy receives from guys before she can see them. And Donna (Judy Greer) wants her confident, pretty high school daughter Hannah (Olivia Crocicchia) to get the film career that she never had — so much so, in fact, that the two of them have created a provocative website to sell alluring pictures of Hannah.
While there is no doubt that social media and the Internet have profoundly changed how we live, a movie like Men, Women & Children looks at the topic in such a glum, tsk-tsk manner that it may inspire viewers to defend our hyper-connected times so as to push back against Reitman's stacked-deck supposition.
To be sure, Reitman is correct that, in our modern era, parents often feel powerless to safeguard their kids, whose ability to text and use Facebook allows them a level of independence that's unprecedented. However, Men, Women & Children broadly paints these new technologies as destructive instruments that distract us from what really matters: family, friendships, love. (Certainly Patricia is meant to be a counterbalancing force as Garner plays her as a humourless, prudish alarmist. But the problem is that Reitman is only slightly more charitable in his stance than she is.)
Once it's apparent that, in the film's view, the Internet is the cause for most of the characters' problems, Men, Women & Children quickly turns into an earnest issue-driven drama in which most everybody on screen needs to be healed so that they can see the errors in their behaviour. (Barring that, the characters will finally have the big heart-to-heart conversation that has been building for a while.) The movie doesn't have much self-awareness that the issues it tackles — suicide, anorexia, teen hormones, adultery, generational conflict, divorce — existed long before Twitter, and so the movie's wistful resignation about 'The State Of The World Today' seems naïve and shallow. (The story's aura of self-seriousness is driven home by a narration from Emma Thompson that aspires to give Men, Women & Children a classy, sombre, almost novelistic elegance.)
With all that said, there is no denying how touching Men, Women & Children can be, how tastefully restrained it is in its approach, and how good the performances are. Reitman's agenda may be heavy-handed, but the acting isn't, with most everyone delivering gentle, natural portrayals. Especially terrific are Greer as a mother whose own dashed Hollywood dreams are reasserting themselves in upsetting ways through her daughter and Dean Norris as a single father trying to understand his aloof son (Elgort) now that his wife has abandoned them. Sandler nails the crushing ordinariness of Don, and the character's journey toward soliciting a prostitute is played with a sweetness that's never cloying. Likewise, Dewitt's Helen seems to surprise herself that she's the cheating type, but her brief fling (with an understated, charming Dennis Haysbert) has a nice romantic ache to it. Because of the intelligence and care brought to the performances, one wishes that Men, Women & Children spent more time looking at its characters as men, women and children and less as symbols of a scary new world.
Production company: Right Of Way Films, Chocolate Milk
US distribution: Paramount Pictures, www.paramount.com
Producers: Jason Reitman, Helen Estabrook
Executive producers: Michael Beugg, Mason Novick
Screenplay: Jason Reitman & Erin Cressida Wilson, based on the novel by Chad Kultgen
Cinematography: Eric Steelberg
Production designer: Bruce Curtis
Editor: Dana E. Glauberman
Music: Bibio
Main cast: Rosemarie Dewitt, Jennifer Garner, Judy Greer, Dean Norris, Adam Sandler, Emma Thompson, Timothée Chalamet, Olivia Crocicchia, Kaitlyn Dever, Ansel Elgort, Katherine Hughes, Elena Kampouris, Travis Tope, David Denman, Jason Douglas, Dennis Haysbert, Shane Lynch, Will Peltz, J.K. Simmons