Top brass at the Guadalajara International Film Festival in Los Angeles (FICG in LA) announced on Wednesday the line-up of Mexican and Latin American films at the festival, set to run from August 27-30.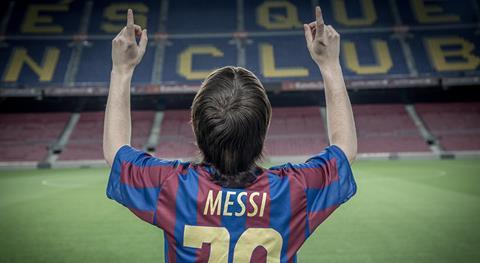 Opening selection Messi from Álex de la Iglesia will receive its LA premiere and chronicles the life of the Barcelona and Argentina football player Lionel Messi, regarded by many as the greatest player of all time.
The film includes informal interviews, re-enactments of key episodes in Messi's life and footage of the player in action.
The fifth FICG In LA returns to the Egyptian Theatre in Hollywood and features screenings followed by Q&A's from a selection of titles from FICG30, which ran from March 6-15 in Guadalajara, as well as other titles that have emerged since the spring festival.
All in all 13 feature and documentary films and 12 short films will be showcased. They include Chus Gutiérrez's Colombian closing night selection Ciudad Delirio, Jayro Bustamante's Ixcanul (Guatemala–France) and Sebastián Schindel's El Patrón, Radiografía De Un Crimen (The Boss, Anatomy Of A Crime) from Argentina.
Instructions Not Included writer-director-actor Eugenio Derbez will receive the Tree Of Life award, as will Eugenio Caballero – who shared the best art direction Oscar on Pan's Labyrinth with Pilar Revuelta – along with Mexican actress Ofelia Medina, La Opinion entertainment editor Josep Parera and LPB (Latino Public Broadcasting).
All are recognised for their contributions to Mexican, Latino and Ibero-American culture.
FICG In LA continues to support Latino and Ibero-American films with Guadalajara Construye in Los Angeles 2 and DocuLab.2 Los Angeles by selecting six projects from filmmakers seeking post-production funds. The films will screen for jurors, sponsors and film industry professionals and winners will be announced on August 28.
Winning projects in each competition will automatically qualify to be considered for Guadalajara Construye 10 or DocuLab.8 Guadalajara, or for the Ibero-American Competitions of the next edition of the Guadalajara International Film Festival, set to run from March 4-13, 2016.
FICG in LA will donate all of its proceeds to a charitable cause to be announced shortly.
The festival is presented by the University Of Guadalajara Foundation in USA and Conaculta, with principal sponsors the University Of Guadalajara, the Guadalajara International Film Festival, the Institute Of Cinema Mexico (IMCINE), Univision and La Opinion.
"FICG in LA 2015 represents the culmination of five years of continuous dedication and passion to further the Latino arts and cinema in the US," said FICG In LA director and Producer Hebe Tabachnik.
"What was once a tiny three-day showcase of Latino and Ibero-American cinema is now a lively, eventful film festival filled with industry events, work-in-progress competitions, family-oriented programs and panel discussions."
"In five years, the Guadalajara International Film Festival in Los Angeles has aimed to promote the Mexican and Latin American cinema so that people from elsewhere can enjoy and appreciate the great productions that have been made in Ibero-America," added FICG director Iván Trujillo Bolio
"And likewise we have done everything possible to make filmmakers from the US and Canada get interested in addressing Latino themes and help them hone their skills to provide stronger ground for their projects."