Dir: Spiros Stathoulopoulos. Germany-Greece. 2012. 82mins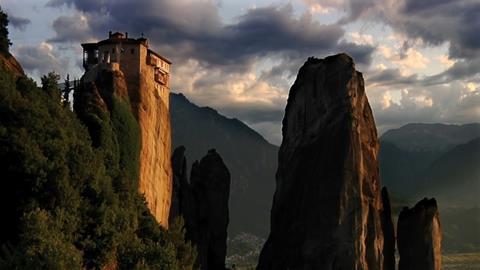 Greek-Colombian director Spiros Stathoulopoulos renounces the single-take Glidecam paciness of his hostage drama PVC-1 for the vertiginously forbidding 14th century Greek Orthodox monasteries of Meteora in a highly aestheticised contemplation of religious devotion and its earthly bounds.
Two sexually-charged sequences do breathe some fire into the film.
Driven by the twin visual motors of the mountains themselves and the iconography that dominates their interiors, Stathoulopoulos contrasts the spiritual life in the skies against the earthy routine in the village below. Animation sequences based on - and breathing life into - Byzantine iconography underscore the silently soulful dilemma facing Meteora's handsome Orthodox monk (True Blood's Theo Alexander) and nun (Russian-born actress Tamila Koulieva).
Accessed at some points by a hand-cranked pulley system - a nun steps into a perilous net and is lurched up the side of the sheer cliff-face - Meteora's monasteries are difficult to access, and many viewers will find this film equally challenging. Reception should be polarised, with some responding to Stathoulopoulos's sumptuous imagery and heavily-emphasised aesthetics, and others finding it simply too remote and airless.
Two sexually-charged sequences do breathe some fire into the film, the first more successfully-executed than the latter, but within the framework of testing the bonds of religious devotion against the carnal urges of physical life, Stathoulopoulos film adds very little to the canon. It's the setting - both religious and physical - and art of Meteora that sets it apart.
Playing out in Competition in Berlin, which may give it a boost into the arthouse although festival exposure seems a more likely home, Meteora is Stathoulopoulos long-delayed follow-up to PVC-1, which played in 2007 Cannes Directors Fortnight. That film, in which a woman raced against time to remove an explosive device attached to her neck, was evidently rooted in his Colombian heritage - Greek-born,
Stathoulopoulos moved to South America as a child but trains his camera on the scorching plains of Central Greece and the country's Orthodox heritage here. Built in an attempt by the monks to escape Ottoman pirates, the six monasteries which rise out of the sandstone pillars are today a UNESCO World Heritage Site, also filled with hermit's caves which are depicted here.
Switching tack completely from PVC-1, Stathoulopoulos' camera tackles them from a still position, switching to the plains below in continual long-shots, but never moving. Working with available light inside the monastery to replicate the colours and shapes of the iconography that dominates in gold, browns and dusty reds, he achieves some extraordinary moments, broken up with perhaps excessive use of the animation device although it does provide some visual relief from the austerity of the towering rock face.
Meanwhile, down below, earthly rhythms dominate, as personified by a flute-playing wizened old farmer and a goat-killing peasant (what ethnological film is complete without one?) Said animal eventually forms the basis of a picnic the monk, Theodoros, and the nun Urania, initially shown swopping scapulas, share on St Jacobs day. Insistent animated iconography of hell below them remind the viewer of what awaits if they give into temptation.
Choral, medieval chanting dominates a sparse soundtrack - largely Perotin - broken up by only ritual hammering and the odd tolling bell. Production design is an extraordinary feat, and costume designer Siafou provides her director with ample black habits and wimples to repeatedly contrasts against the natural background. Religious advisors ensure the depiction of Orthodoxy in this setting is uniformly accurate. The only unforgivable sin they, and the film, tell us, is despair. A fitting caution from Byzantine times for Greece of today.
Production company: Essential Filmproduktion
International sales: The Coproduction Office, www.coproductionoffice.eu
Producers: Philippe Bober, Susanne Marian
Screenplay: Spiros Stathoulopoulos, Asmakis 'Alfa' Pagidas
Cinematography: Spiros Stathoulopoulos
Editor: George Cragg
Production designer: Aristotelis Karananos, Alexandra Siafkou
Animation supervisor: Frank Govaere
Main cast: Theo Alexander, Tamil Koulieva