Dir/scr: Juliet Lamont. Australia. 2012. 82mins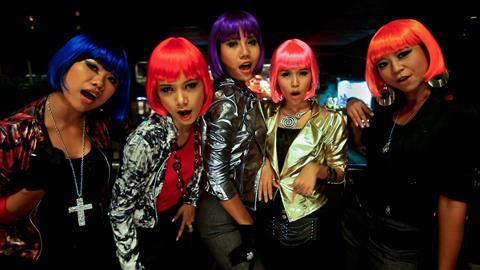 The changes that are taking place in Myanmar (Burma) are brought into tuneful context in the breezily engaging Miss Nikki And The Tiger Girls, which tracks five local women as they seek to bring a little musical girl power to a country best known for repression rather than pop.
It is engaging and entertaining seeing this motivated and sweet-natured group of girls strain against social and cultural pressures.
In September 2010 the people who have been living under a repressive military regime for over 50 years and survived the brutal crackdown in 2007, and despite world attention focussing on opposition symbol Aung San Suu Kyi, who is under house arrest, the unlikely notion of a girl band is set in motion.
Nikki May(known to all as Miss Nikki), an ambitious Australian free spirit who happens to handily also have a wealthy boyfriend sets up auditions for a girl band to be named Tiger Girls, with the backing of hard-headed but equally ambitious Burmese producer Peter Thein.
They are a delightful mixed bag of talents. Wai Hnin is deemed tone deaf and prone to panic attacks; Htike Htike isn't a natural dancer; Ah Moon is an over-achiever; Kimmy is deemed ugly due to cultural conventions (even though she isn't), while Cha Cha, struggles with her controlling father, a military captain. But the edgy and energetic Nikki thinks they've got something special and wants to stick by them.
Peter's idea is to get them to crack the entertainment business by performing at fashion shows – and practicing in nightclubs – in the hope that they'll get picked up as 'faces' to promote products, but when things don't work out he drops them. They want to keep on singing as a group and want to keep the name 'Tiger Girls', but if they do he says he'll sue.
With Aung San Suu Kyi released from house arrest the girls work on their own songs, Nikki and her boyfriend Chris bankrolling the recording of the album and the all-important video clips that accompany each song. The girls come up with a new name, and rename themselves the Me N Ma (as in 'Myanmar') Girls. As the country stages its first free election in April 2012, the band release their first album of original songs and the girls are being booked for gigs around the country.
In a final couple of twists, Nikki discovers she is pregnant and she decides it's time to go home to Australia, but before heading off she announces that the band has been offered a recording contract in Los Angeles and the girls prepare for the possibility of hitting the big time.
It is engaging and entertaining seeing this motivated and sweet-natured group of girls strain against social and cultural pressures along with Nikki's at times over-enthusiastic (in a well meaning way) and slightly self-centred manner, and the film is at its best when delving into their home lives and hopes for the future. There are moments when the film feels a little disjointed – it was wrapped shortly before its IDFA world premiere – but it is impressively colourful and breezy, with a nice blend of performance and interviews.
Production companies: Iris Pictures, ITVS
International sales: Films Transit, www.filmstransit.com
Producer: Jessica Douglas-Henry
Cinematography: Tom Jefferson, Juliet Lamont
Editor: Rochelle Oshlack
Music: Benjamin Speed
Website: www.thetigergirls.com
With: Wai Hnin, Ah Moon, Htike Htike, Cha Cha, Kimmy, Nikki May