Dirs: Jon Erwin, Andrew Erwin. US. 2014. 99mins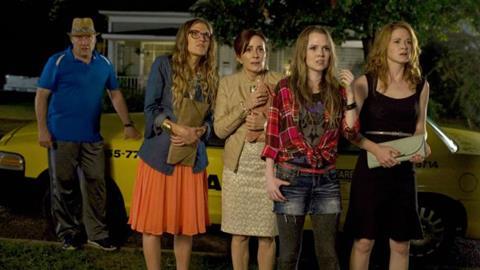 Stressed suburban parents and cutely mischievous kids drive the chaotic goings on in Moms' Night Out, a frenetic but none too original comedy with a vaguely religious theme and a cast of mostly TV names. Probably best suited to home viewing, this latest offering from Sony's inspirational film division Affirm will need a significant promotional push if it is to make a mark theatrically.
Playing out like a squeaky-clean female version of The Hangover.
Sony's TriStar label is giving the film a wide US release on May 9, to tie in with the US celebration of Mother's Day. The maternal marketing angle might bring in a core female audience but laying claim to the faith-based audience - which recently turned Affirm's Heaven Is For Real into a domestic hit - could be harder, given the cast and limited religious content. International prospects appear weak.
Playing out like a squeaky-clean female version of The Hangover, the film turns around Allyson (Sarah Drew from TV soap Grey's Anatomy), a loving but harried young mother who resolves to get away from it all for a night out with friends Sondra (Patricia Heaton, from Everybody Loves Raymond) and Izzy (Andrea Logan White). Plans quickly go awry, of course, and the women end up on the trail of another mother's mislaid baby. Meanwhile, Allyson's husband (Lord Of The Rings' Sean Astin) and the other dads have their own misadventures trying to keep the kids under control.
Sibling writer-directors Jon and Andrew Erwin (whose previous feature was 2011 abortion-themed drama October Baby) give Moms a lively feel and a well-crafted look. But they're a bit too keen on fancy storytelling techniques - voice over, split screen, on-screen graphics - and they seriously overstuff the plot with minor characters (including one played by country music star Trace Adkins) and incidental scenes that aren't in themselves particularly effective and that stop the film developing much of a dramatic arc.
Drew and Heaton both give solid performances but the entire cast is prone to overplaying the comedy, which only serves to show up the weakness of the material.
Religion only comes into the picture during the handful of serious scenes in which Allyson voices doubts about her parenting skills, doubts that are allayed by Heaton's pastor's wife and other characters.
Production companies: Four Boys Films, Pure Flix Entertainment
International distribution: TriStar Pictures, Affirm Films, Provident Films
Producer: Kevin Downes
Executive producers: Patricia Heaton, David Hunt, David Alan Johnson
Screenplay: Andrea Nasfell, Jon ErwinDirector of photography: Kristopher S Kimlin
Production designer: Mark Garner
Editors: Andrew Erwin, Jonathan Olive
Music: Mark Fantini, Steffan Fantini
Website: www.momsnightoutmovie.com
Main cast: Sarah Drew, Sean Astin, Patricia Heaton, David Hunt, Andrea Logan White, Trace Adkins