Dir: Thomas Bezucha. US. 2011. 109mins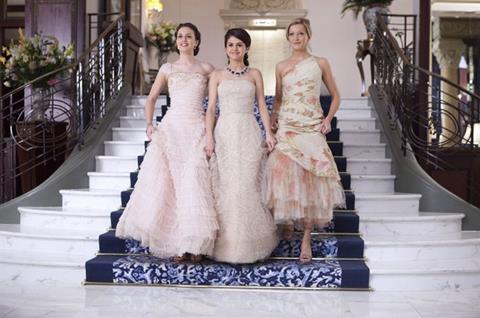 A fanciful teen travelogue with the requisite number of tall dark strangers, Monte Carlo charts a small town girl's travels through Europe after high school graduation, where she ironically finds herself by assuming another person's identity. More than a bit silly and contrived, but so agreeably cast and well executed as to certainly mitigate these shortcomings for its core audience, the film is a pleasant slice of tween-targeted entertainment that should find embrace from fans of The Sisterhood of the Traveling Pants, as well as their younger siblings.
Gomez admirably breaks free from the sort of awkward, over-demonstrative style that characterises a lot of adolescent TV actors transitioning to film work.
With its full-bodied focus on adolescent bloom and improbably romantic adventure, Monte Carlo means to be a teen girl coming-of-age tale, chiefly pitched at tweens but also so earnest that their mothers can enjoy it. Gorgeous production design and superb costuming and girlie accoutrements should make this a solid, if mainly gender-specific, theatrical player. While Ramona and Beezus, Disney star Selena Gomez's screen debut, took in only $26 million last summer, with the slightly more adult tone of this entry there's no reason to believe that mid-eight-figure grosses aren't within reach, though almost all of its haul should come from domestic territories.
The story finds Grace (Gomez) eager to alight from her small Texas town and celebrate her graduation with a trip to Paris, for which she has been saving for years. Set to accompany her is best friend Emma (Katie Cassidy), a waitress with a boyfriend, Owen (Cory Monteith), who would like to keep her under his thumb. At the last moment, her parents saddle Grace with her killjoy stepsister Meg (Leighton Meester).
The three girls set off for Paris, but their guided tour turns out to be a hurried, harried disaster. After the girls get separated from the group, Grace takes refuge in the bathroom of a classy hotel for a good cry. Upon exiting, she's mistaken for Cordelia Winthrop Scott (Gomez again), a snooty British heiress and tabloid sensation. Seizing an opportunity, Grace plays along with the mix-up.
Soon she, Meg and Emma — along with a treasure trove of clothes, handbags and make-up — are headed to Monte Carlo, where a ball is being held in Cordelia's honor, for a sizeable charity donation. While Grace tries to keep up the ruse and, as Cordelia, nurses a growing crush on her assigned date for the ball, Theo (Pierre Boulanger), Meg stumbles across a rakish Australian backpacker, Riley (Luke Bracey), and Emma meets an Italian prince, Domenico (Giulio Berruti).
Apparently diverging wildly from its source material, a novel by Jules Bass, Monte Carlo provides sunny, diversionary amusement without much in the way of narrative surprise. Any substantive exploration of the dynamics of its main characters (Meg and Emma are three to four years older than Grace, and former high school rivals) gets unfortunately jettisoned in favor of overly calculated romantic pairings-off. This is most embodied by the manner in which the script needlessly sends Owen off to Paris in pursuit of Emma, introducing a complication that it can't pay more than lip service to and thus comes across as pointless.
Using a variety of well-placed backdrops and nicely appointed sets to help mask limited location shoots in Paris and Monaco, director Thomas Bezucha (The Family Stone) and cinematographer Jonathan Brown manage to still pay homage to various European romances and adventures like Roman Holiday, To Catch a Thief and The Lavender Hill Mob.
Gomez admirably breaks free from the sort of awkward, over-demonstrative style that characterises a lot of adolescent TV actors transitioning to film work, and believably projects a separate, distinct, aloof sense of entitlement for her scenes as Cordelia. Cassidy and Meester nicely fill out their roles, with the former in particular bringing a sense of fresh-eyed optimism to a girl traveling for the first time out of her home state.
Composer Michael Giacchino knows how to classily evoke swirling romance without hitting antecedent influences directly on the nose. His score alternates between wistful and peppy depending upon the story's needs, and — combined with some smart song choices — lends an airy grace to the picture.
Production companies: Fox 2000 Pictures, Regency Enterprises, Di Novi Pictures, in association with Dune Entertainment
Domestic distribution: 20th Century Fox
Producer: Denise Di Novi, Alison Greenspan, Nicole Kidman, Arnon Milchan
Executive producers: Stan Wlodkowski, Deborah Schindler, Forest Whitaker, Per Saari
Screenplay: Thomas Bezucha & April Blair & Maria Maggenti
Screen story: Kelly Bowe, based on the novel Headhunters by Jules Bass
Cinematography: Jonathan Brown
Editor: Jeffrey Ford
Production designer: Hugo Lucyzc-Wyhowski
Music: Michael Giacchino
Website: www.MonteCarloTheMovie.com
Main cast: Selena Gomez, Leighton Meester, Katie Cassidy, Cory Monteith, Andie MacDowell, Catherine Tate, Pierre Boulanger, Luke Bracey, Brett Cullen, Valerie Lemercier, Giulio Berruti