Dir: Dragan Bjelogrlic. Serbia. 2010. 144mins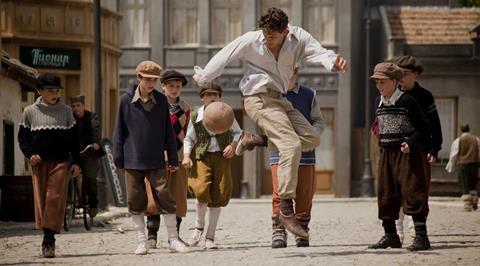 A sense of easygoing fun pervades Montevideo: God Bless You!, the directorial debut of local star actor Dragan Bjelogrlic (Wounds and Pretty Village, Pretty Flame). Despite a clumsy title (a poor translation), this conventional but enjoyable story about the ragtag Yugoslavian football team formed to play the first ever World Cup has something for everyone: sports, humour, romance, nostalgia, great period sets and costumes, and a solid ensemble cast of newcomers and veterans.
The action unfolds at a steady pace and despite some overly sentimental flashbacks and sequences things never get too sappy.
The record-breaking film has sold over 500,000 tickets domestically since December. In a region known for its war stories, the upbeat and exportable Montevideo will by default play arthouse cinemas abroad, but is very much a crowd-pleaser.
There are several strands in Montevideo, from the managers' struggles to raise money and enthusiasm for a national team, to various players' personal lives. Yet the heart of the film is Aleksandar "Tirke" Tirnanic (Milos Bikovic). Plucked from Belgrade's streets to be on the squad, the proud but poor Tirke instantly clashes with posh captain Blagoje "Mosa" Marjanovic (Petar Strugar).
They fight over the same position and women (Nina Jankovic, Danina Jeftic) though of course through perseverance and a love of the game overcome their differences. They went on to become the country's most legendary football duo.
In their early 20s, Bikovic and Strugar are naturals and have become overnight heartthrobs at home. Bikovic in particular channels his underdog's bravado and innocence with the casual charm of a far more experienced actor.
The action unfolds at a steady pace and despite some overly sentimental flashbacks and sequences, including a lame shoeshine boy (Predrag Vasic) who also narrates, things never get too sappy.
It would have been nice to see even more fancy footwork from the players, but a planned sequel promises to take care of that. Montevideo: God Bless You! Part 2 is scheduled for a Christmas release and follows the team on its transatlantic voyage to the 1930 World Cup in Uruguay. A television spinoff is also in the works.
Production company: Intermedia Network
International sales: Soul Food, www.soulfoodfilms.com
Producer: Dejan Petrovic
Screenplay: Dragan, Bjelogrlic, Srdan Dragojevic
Cinematography: Goran Volarevic
Production designer: Nemanja Petrovic
Editors: Marko Glusac, Dejan Urošević
Music: Magnifico
Website: www.montevideoproject.com
Main cast: Milos Bikovic, Petar Strugar, Viktor Savic, Predrag Vasic, Sergej Trifunovic, Nina Jankovic, DaninaJeftic, Vojin Cetkovic, Nebojsa Ilic, Nikola Djuricko