Dir/scr: Markus Imhoof. Switzerland-Germany-Austria, 2012. 91mins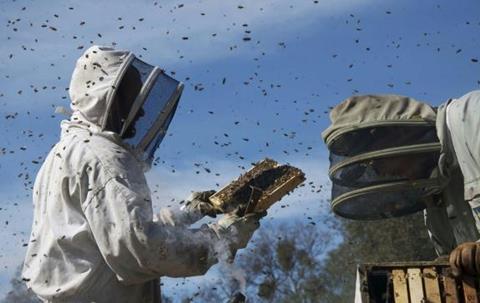 Richly documented and lavishly photographed, this documentary on the endangered state of bees in the world today and the subsequent danger this represents for the future of mankind, has the earnest foundation and the professional approach needed to travel extensively around the world and to find its way into every educative system concerned with the next impending ecological disaster.
Helped by inquisitive cameras, Imhoof obtains stunning images of the busy insects at work, of the hives themselves or of their search for lodgings that are better than the ones man has to offer.
Shot on four different continents and tackling the subject from as many angles as one hour and a half will permit, Imhoof's film makes a solid case for serious concern on the matter. Since they are the major factor in the pollination of most fruits and vegetables, once the bees - more and more infected by pesticides, parasites and other curses of modern life - disappear, as they seems to be doing in the last 20 years, the humans are bound to follow. According to Albert Einstein, they would be gone too in no more than four years.
Markus Imhoof (The Boat is Full) was born into a family of beekeepers, and starts his long journey at home in the Swiss mountains, then moves to the vast almond plantations in California, a spectacular sight when they are all in flower. He visits a scholar in Berlin, Prof. Randolf Menzel, who explains the social structure of the bee society, speaks with beekeepers whose hives travel, on huge trucks, from one side of the American continent to the other, following the agricultural seasons that would remain barren without the presence of the bees to carry the pollen from one plant to the other.
He goes to Northern China in areas bereft of bees, where young women are planting the pollen with their own hands on the trees. In Australia he finds there are still uncontaminated bees, grown on an isolated island, possibly the last one in the world, and back in America he hears about the new breed of 'Killer Bees', or if you wish wild African bees, who had escaped from Brazilian labs and found their way into the northern part of the continent, where some beekeepers have learned, if not to tame and domesticate them, to least live with them.
The data he provides leaves no doubt that the bee population of the world is in rapid decline, and from all the information he collects, he concludes that this happens not only as the result of increasing use of poisonous chemicals but also because man has enslaved the bees to work for him by pumping into them drugs that may increase their productivity but decrease their resistance.
Production companies: Thelma Film, Ormenis Film, zero one film, allegro film
International Sales: Films Boutique, info@filmsboutique.com
Producers: Pierre-Alain Meier, Markus Imhoof, Thomas Kufus, Helmut Grasser
Cinematography: Jorg Jeshel, Atilla Boa
Editor: Anne Fabin
Music: Peter Scherer