Dir/scr: Oliver Hermanus. South Africa/France. 2011. 104mins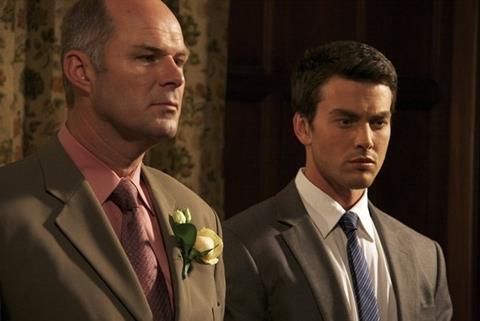 An impressively controlled study of a macho Afrikaaner and the secret he hides from his family, his friends and himself, Beauty (Skoonheid) is a slow-paced but effective portrait of a kind of apartheid of the mind. It's also a dour and uncompromising arthouse product which will play to a wafer-thin audience at home in South Africa - where the director's debut, Shirley Adams, barely made a dent in the box office. Further festival action looks like the most obvious next step after the film's Cannes premiere, though resilient audiences in Europe and elsewhere may also be persuaded to take a look.
His is a refreshing new voice in a territory known up to now more for its township dramas.
Reminiscent of a certain strain of austere Latin American cinema that includes Carlos Reygadas (Silent Light) and Rodrigo Moreno (El Custodio), the film derives much of its force from the way structure, rhythm and framing play the same tense waiting game that the protagonist himself is engaged in. A lot of weight is placed on the performance of Deon Lotz, and he rises to the challenge, investing Francois, the frustrated family man at the centre of the story, with a thermonuclear mass of repressed energy.
Lotz is Francois, who lives in Bloemfontein, in South Africa's Afrikaaner heartland. He's a big, bullish guy who we first see at a wedding reception, also attended by Christian (Keegan), the son of an old friend. It's only in retrospect that we realise that the camera's slow prowl through the room, and its predatory focus adjustment and zoom in on pretty-boy Christian, is Francois' point of view: even after we've identified Francois as the film's centre of attention, he gives little away.
He's married to Elena (Scott), though they seem not to have a physical relationship. He owns a lumber company and sawmill, and from certain comments he lets drop we suspect he might be a racist. When he drives to a farmstead meeting with a group of tongue-tied roughnecks, we assume it's a white supremacists' hoedown, especially when one of the group is turned away because he has broken their "no faggots or coloureds" rule by arriving with a fey black boy in tow.
So it comes as a shock when in the very next scene we see Francois and his beer-swilling pals engaged in an orgy while gay porn plays on the TV. They're hard, homophobic men who like to have sex with each other, before (like Francois) going back to their families, going to church and behaving like regular guys. But Francois' can't stop thinking about Christian - a trainee lawyer whose sideline as an advertising model leads the older man to convince himself that he too may be living in the Afrikaaner closet.
The film's dramatic tension lies not in the explicit content of many of the scenes but in the set of the protagonist's mouth and his alert, needy but downcast eyes; or in little details in the corner of the scene, often out of focus - a mixed-race couple on the beach, a happy gay couple flirting in a gay bar where Francois sits drinking, filled with self-hatred - or the archive newspaper cutting on the wall of a restaurant that reads FREE AT LAST. It's still a testing ride for the audience, and Hermanus doesn't quite know how to end the film; but his is a refreshing new voice in a territory known up to now more for its township dramas, at least on the international festival stage.


Production companies: Equation, Moonlighting Films
International sales: MK2, www.mk2.com
Producer: Didier Costet
Cinematography: Jamie Ramsay
Production designer: J Frank Lewis
Editor: George Hanmer
Music: Ben Ludik
Main cast: Deon Lotz, Charlie Keegan, Michelle Scott, Albert Maritz, Roeline Daneel, Sue Diepeveen