Dir: Darren Lynn Bousman. US. 2011. 112mins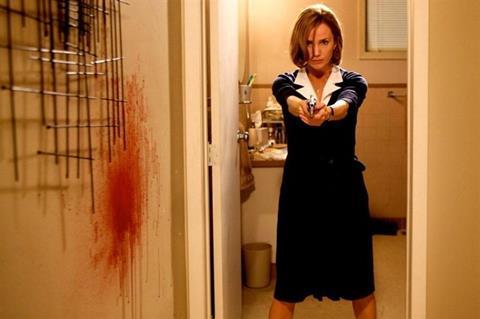 Mother's Day is an enjoyably bloody piece of exploitation cinema that might offer little new in terms of plot or visceral chills but it is driven by a quite mesmerising performance by Rebecca DeMornay as the murderous matriarch whose bloodthirsty brood have a skewed view on family loyalty.
This is Rebecca DeMornay's film and she makes the most of it.
Director Darren Lynn Bousman's film – a re-make of the 1980 Troma movie of the same title – is a grimly gory film featuring a series of sadistic moments largely overseen by DeMornay's marvellously malicious mother. The film has played at various niche genre film festivals, and opens in the UK prior to any kind of US release.
Bousman (who directed Saw II, III and IV as well as Repo! The Genetic Opera) stages a series of nicely nasty moments in amidst the more traditional psychological thrills, but never resorts to over-the-top gore, instead making good use of the story's claustrophobic locations. There is, though, a niggling sense of a missed opportunities and a slight issue that the film is simply overpopulated with too many supporting characters.
It is a film where morality and faith in fellow man is questioned several times – as characters are asked to fight for their lives with a friend – and while there are moments of bludgeoning brutality these scenes are rarely front-and-centre, with Bousman staging much of the violence in the background of a scene or out of camera-shot. That isn't to say Mother's Day isn't bloody, but rather that it lacks the 'in-yer-face' gore of the Saw films.
The Koffin brothers, Ike, Addley and a seriously wounded Johnny are fleeing from a botched bank robbery and head straight to their mother's house. What they don't realise is that young couple Beth (Jaimie King) and Daniel have taken the house after a foreclosure, and are having a party in the basement with their friends.
They take the yuppie crowd hostage – handily one of them is a doctor (Shawn Ashmore) and can tend to the injured brother – and place a call to momma. When she arrives there is initial relief as she seems keen to bring peace to the situation…but it soon becomes all too clear that she is even more deranged, manipulative and deadly.
From then on there is a series of increasingly grisly incidents. Some of the yuppies decide to make a bid for freedom, only to be brutally forced back. Beth is made to go out to a cash till in town by Ike (Patrick Flueger), and while there witnesses a particularly sadistic moment – two young women arrive at the cash point, but Ike holds them hostage at gunpoint, drops a knife on the floor, and tells them he'll let the one live who kills the other girl.
The best moments of Mother's Day, though, take place in the stuffy confines of the house as Rebecca DeMornay's delightfully deranged mother manipulates her children and the proceeds to torture the remaining yuppies in pursuit of money and a rather skewed moral viewpoint. DeMornay's performance is spot-on – she blends genial likeability with a capacity for violence. This is one mother you wouldn't want to cross.
In truth there are just far too many yuppie victims stuck in the basement. It simply means that some just don't get enough screen time to carve out any personality – though Briana Avigan's tattooed and feisty woman is rather different – and are simply there to bicker or to be killed/tortured. Jaimie King is impressive as the woman with more about her than meets the eye, but in truth Mother's Day is really all about the mother – this is Rebecca DeMornay's film and she makes the most of it.
Production companies: The Genre Co., LightTower Entertainment, Rat Entertainment, Troma Entertainment
International sales: Sierra/Affinity, www.sierra-affinity.com
Producers: Brett Ratner, Richard Saperstein, Jay Stern, Brian Witten
Executive producers: Kyle Bornais, Steven J Brown, Andrew Golov, Charles Kaufman, Lloyd Kaufman, Stephen Kessler, Curtis Leopardo, Jessie Rusu, J. David Williams, Jonathan Zucker
Screenplay: Scott Milam, based on the 1980 Mother's Day screenplay by Charles Kaufman & Warren Leight
Cinematography: Joseph White
Editor: Hunter M Via
Production designer: Anthony A Ianni
Music: Bobby Johnson
Website: www.mothersdaythemovie.com
Main cast: Rebecca DeMornay, Jaimie King, Patrick Flueger, Shawn Ashmore, Warren Kole, Briana Avigan, Alexa Vega, Lisa Marcos, Frank Grillo, Lyriq Bent, Matt O'Leary, Deborah Ann Wall, Tony Nappo