Dir: Rob Minkoff. US. 2014. 92mins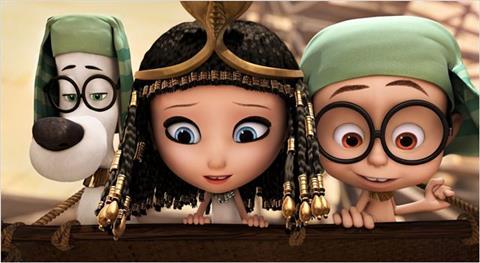 That old tried and trusted time-travel gambit comes into great use in the thoroughly enjoyable Mr. Peabody & Sherman, an action-packed animated romp that will attract – and maybe even educate – a young audience, and might even strike a chord with reluctant older adults who recall the original cartoons from the 1960s.
The film is a romping adventure that makes great use of the 3-D.
The fact that it isn't a particularly known franchise for youngsters may make it a harder sell initially, but there is little animated fare out there on screens (the film opens in the UK on February 7 and a month later in the US) and the promotional material and trailer make it a tasty box-office prospect. As a 3-D animated romp it offers plenty of breathless fun-and-games as well a goodly amount of wry humour.
The original Mr. Peabody & Sherman cartoons came in the form of educational skits as part of the Rocky & Bullwinkle series (which had a limited impact on UK audiences, making the UK release a tad more challenging), but as a concept it is a charming one….a super-intelligent talking dog named Mr. Peabody (voiced by Ty Burell from Modern Family) takes his adoptive son Sherman (Max Charles) on time-travel trips into the past to teach him about history.
The film opens engagingly with a delve into Mr. Peabody's past. As the smartest dog in the litter he never found a home, so set about using his brainpower to invent brilliant things – from complicated technology to the fist-bump – but when he comes across an abandoned baby he realises there is something missing in his life, and so petitions the court to adopt young Sherman.
As part of Sherman's education Mr. Peabody takes them both on educational trips using his amazing WABAC (pronounced 'Wayback') machine, that sees them heading back in time to witness great historical events, including getting involved in a thrilling escape from the guillotine in Revolutionary France after eating cake with Marie Antoinette. Mr. Peabody tends to punctuate these trips with a pithy dry pun that Sherman invariably never gets.
On his first formal day in school Sherman gets into a fight with fellow pupil Penny (Ariel Winter) – she calls him a 'dog' after getting jealous at Sherman's history knowledge – and Mr. Peabody finds himself threatened by tough child protective services officer Mrs Grunion (Allison Janney) who is not overly supportive of the concept of a dog looking after a boy.
Mr. Peabody – naturally also a master chef and top cocktail maker – invites Penny and her parents over for a make-up dinner and in a desperate bid to impress Penny the increasingly flustered Sherman makes the schoolboy mistake of showing her the WABAC machine.
Naturally this leads to nothing but trouble, especially when Penny takes a shine to a young King Tut in ancient Egypt and Sherman has to call on Mr. Peabody to try and sort matters. But when the WABAC machine runs out of juice the threesome find themselves involved in a series of adventures, including bonding with Leonardo da Vinci (and helping make the Mona Lisa smile) and getting caught up in the Trojan war. Before long though, their antics start disturbing that old "space/time continuum" – a plot gambit much loved by the likes of Star Trek and Doctor Who – and the future of the whole planet is threatened.
There are some nice voice performances from a top cast, with Ty Burell great as the warm-hearted and pithy Mr. Peabody; Stanley Tucci has fun as Leonardo da Vinci; Leslie Mann is great as Penny's mother; Patrick Warburton is perfect as the muscular and dumb Agamemnon and Mel Brooks chips in with a lovely cameo as Albert Einstein.
The film is a romping adventure that makes great use of the 3-D – there are plenty of thrilling escapes, leaping off buildings and flying through the air (especially when Sherman and Penny make use of Leonardo da Vinci's flying machine) – and for a children's film there is a goodly amount of peril. The script is warm and witty and while it never really relies on cultural reference gags it has the style to appeal to adults as well as young ones. The real challenge will be marketing to audiences who know nothing of the original series….but it has a brilliant talking dog and a travel machine so it should have the ingredients to appeal to youngsters keen for their next animated fix.
Production companies: Bullwinkle Studios, Classic Media Productions, DreamWorks Animation SKG, PDI/Dreamworks
Distribution: 20th Century Fox
Producers: Denise Nolan Cascino, Alex Schartz
Executive producer: Tiffany Ward
Screenplay: Craig Wright, based on the series produced by Jay Ward
Editor: Michael Andrews
Head of character animation: Jason Schleifer
Music: Danny Elfman
Website: www.mrpeabodyandsherman.com
Main cast: Ty Burrell, Max Charles, Ariel Winter, Allison Janney, Leslie Mann, Lake Bell, Stanley Tucci, Patrick Warburton, Mel Brooks, Dennis Haysbert, Stephen Colbert