Dir: Sean Garrity. Canada. 2012. 98mins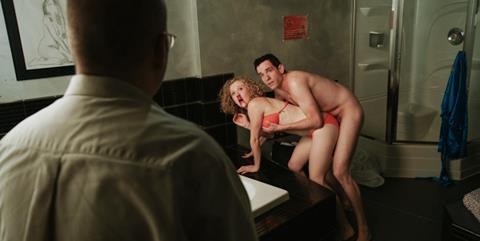 Rejection sends a nerdy accountant from Winnipeg to Toronto's supposed swamp of sin for remedial sex education. Science fiction? No, just a Canadian screwball comedy. Quirky in its quests to shock and mock, this Canadian descent into hell may draw fans who've seen its nerd/hero/screenwriter Jonas Chernick on television The Border.
Chernick, a Canadian TV veteran isn't shy about exploring Jordan's endless humiliations and his sexual unattractiveness.
As nebbishes go, this one's neuroses aren't strange or lewd enough to win over US audiences where Woody Allen and his army of nerd imitators have set the bar high. Nor do any other markets outside Canada look promising, while genuinely raunchy material may also make the film hard to sell on television.
The classic nerd flight from the comfort zone shifts dysfunctional gears when bitchy princess Rachel (Sarah Manninen) dumps accountant and longtime beau Jordan Abrams (Chernick) after she falls asleep during sex, and sticks to her guns as he proposes marriage. The determined bean counter vows to get her back, and heads for Toronto for sex advice from lothario friend Dandak (Vik Sahay), and eventually from stripper Julia (Emily Hampshire) who pities the lovelorn soul who suffers from a massive hangover and the theft of his trousers.
In a novel deal, accountant Jordan swaps financial advice with Julia, who's broke, in exchange for sex training. Viewers won't learn much about sex here, but they may get a reality check on how accountants and banks operate – nothing if not a novel twist.
Director Sean Garrity follows Jordan's odyssey as a picaresque Walter Mitty story, with the additional humiliation of Jordan being taunted by co-workers and tossed back and forth by Rachel (played to the bitchy hilt by Manninen), who has sex with anyone she can in his absence.
Chernick, a Canadian TV veteran, isn't shy about exploring Jordan's endless humiliations and his sexual unattractiveness. Yet he brings complexity and some fresh laughs to nerd-dom with his accountant's-eye-view of life and love.
The most appealing presence in Chernick's script is Julia, confident in sex but hopeless in managing her own cash. Hampshire (Cosmopolis) plays her with a sexy composure, which battles with an improbable vulnerability when money enters (and leaves) her pockets. Production values are fine in this low-budget project, which offers no new visual tricks in its observation of titillation in the strip club that employs Rachel and takes Jordan's money.
In My Awkward Sex Adventure, sin – Toronto-style and Winnipeg-style – is predictably tame, if not just silly. The Canadian film is mocking its own notoriously wholesome country. It needs more to bring in a crowd beyond its borders.
Production companies: Banana-Moon Sky Films, Julijette Inc.
International sales: Archstone Distribution, http://archstonedistribution.com
Producers: Jonas Chernick, Juliette Hagopian
Executive Producers: Berry Meyerowitz, Jessica Labi, Juliette Hagopian
Screenplay: Jonas Chernick
Cinematography: Gavin Smith
Editor: John Gurdebeke
Production designer: Rejean Labrie
Music: Ari Posner
Main cast: Jonas Chernick, Sarah Manninen, Emily Hampshire, Vik Sahay