Dir. Nick Cassavetes. US. 2009. 103 mins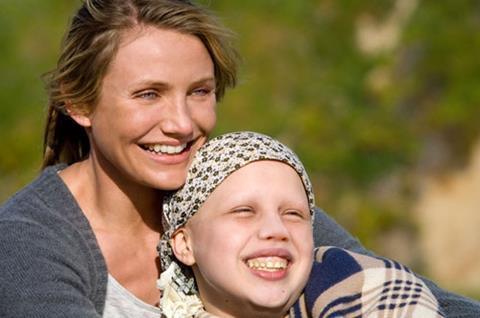 Based on the 2004 novel by American author Jodi Picoult, My Sister's Keeper turns the story of a terminally ill teenager and her tight-knit family into an awkwardly structured but warmly emotional and relatively unsentimental drama. Though the subject matter will be a tricky sell in the middle of the summer blockbuster season, title recognition and the Cameron Diaz-led cast could help attract several generations of filmgoers within the target female audience.
The film's counter-programming potential will get a big test in the US, where Warner Bros launches the New Line production on June 26 opposite Transformers: Revenge of the Fallen. More direct competition will come from several other female-skewing - and more lighthearted - mid-summer releases aiming to become this year's Mamma Mia! or The Devil Wears Prada.
Rather than building up to a three-hankie climax, the film delivers regular emotional beats that feel organic instead of manipulative
Diaz, whose last few films have been considerably more successful internationally than domestically, will be a strong draw in the international marketplace, where Warner is releasing in some territories and independent distributors in others. And late summer release dates in most major markets may be more suited to the film's downbeat mood.
Diaz and Jason Patric play Sarah and Brian Fitzgerald, loving parents to three bright children. The family's life is dominated by the fact that teenage daughter Kate (Vassilieva) has been fighting leukemia since she was a toddler. Younger sister Anna (Breslin) was conceived to help keep Kate alive, through blood and organ donations. Older brother Jesse (Ellingson), meanwhile, has become an almost forgotten son.
With Kate's condition deteriorating, Anna shocks the family by hiring a lawyer to file for 'medical emancipation' from her parents. The move divides the family and threatens to end Kate's struggle.
The plot may sound like a TV movie (three of Picoult's other books been filmed for US cable channel Lifetime) but the execution is more ambitious. Veteran cinematographer Caleb Deschanel (The Passion Of The Christ) shoots the action in rich, glowing colour. And writer-director Nick Cassavetes (who made New Line's 2004 summer drama hit The Notebook) and writer Jeremy Leven (who also collaborated on The Notebook) aim for a novelistic narrative style, with intertwined story threads, frequent timeline jumps and multiple narrators.
Unfortunately, though, the narrative approach is more distracting than illuminating. It allows the film to meander through a second act that ends abruptly with a twist revealed by Anna's court case against her parents.
Cassavetes and his cast are more successful in the execution of individual scenes. Rather than building up to a three-hankie climax, the film delivers regular emotional beats that feel organic instead of manipulative. The story's end is nicely understated and it is followed by an equally restrained coda.
In one of her fairly rare dramatic roles, Diaz is convincing as the protective but blinkered Sara. Breslin is good but underused, while Vassilieva (best known from TV's Medium) handles her difficult role with impressive skill
The supporting cast includes Alec Baldwin as the apparently sleazy lawyer hired by Anna, and Joan Cusack, enjoyable as the judge who hears Anna's case.


Production company
New Line Cinema

Worldwide distribution
Warner Bros (North America and selected international territories)

Producers
Mark Johnson
Chuck Pacheco
Scott L Goldman

Screenplay
Jeremy Leven and Nick Cassavetes, based on the novel by Jodi Picoult

Cinematography
Caleb Deschanel

Production design
Jon Hutman

Main cast
Cameron Diaz
Abigail Breslin
Alec Baldwin
Jason Patric
Sofia Vassilieva
Joan Cusack
Evan Ellingson