Dir: Jonathan Nossiter. France-Italy. 2014. 86mins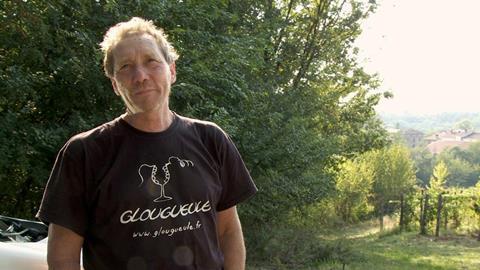 The passionate and thoughtful views of a group of Italian winegrowers who are part of the rapidly spreading European natural wine revolution make for intelligently watchable viewing in Jonathan Nossiter's documentary Natural Resistance, a niche film that could find a home of food-and-drink orientated television channels and also intrigue distributors who might have handled Nossiter's acclaimed 2004 wine film Mondovino.
Their simple argument is that they should be free to craft wine in a "raw" style, using simple, natural methods and without chemicals or supplements.
Though made much more in home-movie style than Mondovino, which played in competition at the Cannes Film Festival and also spawned 2007's Mondovino The Series, the film is warm-hearted and astute, with Nossiter also weaving in classic movie footage and comment via Bologna film curator Gian Luca Farinelli who engagingly ties together film archiving with creating wine.
The focus of his film are a series of winegrowers whose attitude towards growing grains, fruits and wines that overly link to their Etruscan heritage are at odds with the heavily controlled industry that fines them for not using industrialised methods and chemical supplements, which also means it is also impossible for them to access supermarket shelves.
The wine growers are Giovanna Tiezzi and Stefano Borsa, who live in a converted 11th century monastery and winery in Tuscany; Corrado Dottori and Valerio Bochi, refugees from industrial Milan who live at their grandfather's farmstead in the Marches; ex-librarian Elena Pantaleoni who works her father's vineyards in Emilia, and Stefano Bellotti an engagingly radical farmer poet who has a ramshackle farm in the Piedmont.
Their simple argument is that they should be free to craft wine in a "raw" style, using simple, natural methods and without chemicals or supplements and without having to submit themselves to the strict rules of the governing bodies.
These natural wine rebels are filmed wandering their beautiful vineyards and sipping wine on their sun-dappled verandas with children playing happily in the garden. Jonathan Nossiter, who also handles camerawork, is not there simply to record their opinions, but leads conversations and interjects when he has a viewpoint. That being said, he can find little room to get a word in once Stefano Bellotti starts talking, with his passion and natural eloquence dominating the film.
In one striking scene he displays the difference in the soil on his own vineyard as compared to his neighbor a matter of yards away who uses the full range of chemicals and fertilizers. His own soil is dark, full of mulch and moist, while his neighbour's soil is dry and brittle.
The film may be too complex and focused on a subject of limited interest to attract mainstream audiences, so Nossiter tries to pep up the film with classic film extracts and comments from Gian Luca Farinelli, but while entertaining at times it feelss as if the footage is there to pad out the film rater than help its flow.
Production companies: Les films du Rat, Prodigy, Goatworks Films, Cinemateca di Bologna
International sales: Rezo, www.rezofilms.com
Producers: Jonathan Nossiter, Paula Prandini, Santiago Amigorena, Giacomo Claudio Rossi
Cinematography/editor: Jonathan Nossiter
With: Giovanna Tiezzi, Stefano Borsa, Corrado Dottori, Valerio Bochi, Elena Pantaleoni, Stefano Bellotti, Gian Luca Farinelli