Dir/scr: Hal Hartley US. 2014. 85 mins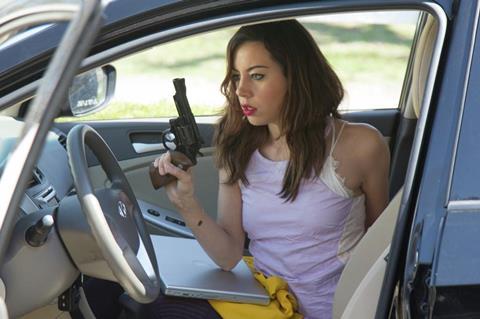 A quarter of a century has passed since Hal Hartley charmed critics and made waves with The Unbelievable Truth and Trust. A great deal has changed in the making and selling of films since then but there are few sign of progress or growth in Hartley's work to judge by Ned Rifle. The concluding film in a trilogy that began with Henry Fool (1997) is, at least, an improvement on Fay Grim (2006). It should easily stir the attention of hardcore Hartley admirers whilst remaining an acquired taste for audiences beyond his loyal fan base.
Hartley's approach seems designed to prevent any genuine emotional entanglement in what unfolds.
There is a drab, flat look to Ned Rifle suggesting that this is a film made with the most modest resources. A budget of $400,000 was raised as part of a Kickstarter campaign but fans of the trilogy should still welcome the return of all the major characters and a scenario in which the sins of the past return to trouble and torment the present. They may also welcome the chance to revisit the earlier titles in the trilogy.
On the day Ned (Liam Aiken) turns eighteen he is free to leave the witness protection programme that has concealed his identity and protected his innocence for the past four years. His mother Fay (Parker Posey) continues to languish in prison as a convicted terrorist but has been transferred to a less punitive establishment. Ned leaves the Reverend David Gardner (Martin Donovan) and the family who have sheltered him vowing to kill the one man who has been the architect of all his family's woes-his father Henry (Thomas Jay Ryan).
A God-fearing virgin who is saving himself for marriage, Ned heads to New York and Seattle in search of his father. His quest for revenge brings him into contact with his uncle Simon (James Urbaniak), now pursuing a career as a stand-up comedian, and with femme fatale Susan (Aubrey Plaza), a young woman who seems dangerously obsessed with ever member of Ned's family.
There is enough plot in Ned Rifle to sustain several cheesy television soap operas but it is largely played as a bone-dry comedy. Hartley's film is a screwball farce invested with a hip indy sensibility and filled with garrulous characters spouting philosophical banter and intellectual rants. It is intentionally arch and artificial with an awkward self-consciousness in the performances.
You appreciate that this is all part of Hartley's distinctive style but the laughter provoked is just as often at the absurdity of it all rather than because it is funny.
Hartley's approach seems designed to prevent any genuine emotional entanglement in what unfolds. The same voice seems to be running through many of the characters and the prison scenes between a brittle, perky Parker Posey and son Liam Aiken would seem more at home in a John Waters film like Serial Mom.
The film does fumble towards some pathos in the final scenes and concludes the trilogy by bringing a degree of resolution for all of the main characters. That is as good a reason as any for Hartley supporters to turn out.
Production company: Possible Films, LLC
International sales: Fortissimo Films, www.fortissimo.nl
Producers: Hal Hartley, Matthew Myers
Cinematography: Vladimir Subotic
Editor: Kyle Gilman
Production designer: Richard Sylvarnes
Music: Hal Hartley
Main cast: Liam Aiken, Aubrey Plaza, Martin Donovan, Parker Posey, Thomas Jay Ryan, James Urbaniak