Dir: Nicholas Stoller. US. 2014. 96mins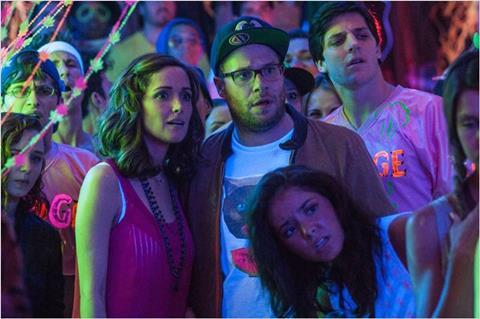 A steady stream of laughs awaits in the lovably profane comedy Neighbors, but audiences may be less prepared for a story that, although somewhat clunky, contains just the right amount of insight into the ways that people of all ages try to deny the inevitable changes that come with getting older. Seth Rogen and Zac Efron are well-matched as the feuding titular leads, and director Nicholas Stoller (Forgetting Sarah Marshall) keeps the gags coming, deftly balancing hilarious throwaway jokes, nicely calibrated set pieces and a subtle display of heart underneath.
Byrne's dry bluntness makes her a worthy foil to Rogen's dopey-stoner persona, but she also flashes a grownup sex appeal that wasn't as evident in recent roles such as Bridesmaids and The Internship.
Opening May 9 in the US — it arrives in the UK on May 3 under the title Bad Neighbours — Neighbors looks to be one of summer's first breakout comedies, following hot on the heels of female-skewing smash The Other Woman. Rogen is coming off last summer's hit This Is The End, and this new film's family-man-versus-fraternity-guy concept is so accessible that it should easily attract crowds, with good word-of-mouth expected. Neighbors' restrictive R rating may curtail grosses slightly in the States, but its most direct competition would seem to be Seth MacFarlane's A Million Ways To Die In The West, which doesn't launch until the end of the month.
As Neighbors begins, happily married Mac (Rogen) and Kelly (Rose Byrne) have sunk all their money into a house in the suburbs, where they're looking forward to raising their newborn daughter. But their dreams of domestic tranquillity are quickly shattered by the arrival of a rowdy fraternity next door. Mac hopes to reason with the fraternity's president, the cocky Teddy (Efron), but soon animosity grows between the neighbours, leading to a series of escalating pranks and intimidation.
Screenwriters Andrew Jay Cohen and Brendan O'Brien have come up with a comically durable idea: Mac wants Teddy to keep the late-night noise down, but at the same time he doesn't want the kid thinking he's a boring old square. That tension within Mac leads to some of Neighbors' best material as Rogen conveys his character's fear of surrendering his carefree younger self in the name of adult pragmatism. Always a goofy, agreeably awkward presence on screen, Rogen has fun satirizing Mac's hopelessly feeble attempts to impress this college jock with his outdated ideas of what's cool. (At one point, the generational divide becomes painfully apparent when Mac and Teddy realise that they grew up adoring different Batman actors.)
Unfortunately, the mounting friction between the two men — and, by extension, between Kelly and Teddy — can occasionally slip into tediousness as the characters plot to outsmart each other through clunky slapstick schemes. (The sadistic violence of some of the retribution comedy feels out of place since Stoller, whose last film was the bittersweet romantic comedy The Five-Year Engagement, doesn't show much interest in exploring these people's dark side.) On the whole, Neighbors is a clever premise with consistently funny sequences, but it gets bogged down trying to justify Mac and Kelly's plan to force out the fraternity.
Still, that liability matters little when Rogen has such fantastic chemistry with his co-stars. Herself born in Sydney, Byrne plays an Australian woman who met Mac when she was an exchange student visiting the US, eventually falling in love. There's a nice buried resentment within Kelly as she watches her husband go off to work every day while she's left to care for their baby at home, and that modest resentment leads to a prickly rapport between the two characters, their edginess the result of a seemingly happy couple whose middle-class domesticity isn't as perfect as they'd hope. Byrne's dry bluntness makes her a worthy foil to Rogen's dopey-stoner persona, but she also flashes a grownup sex appeal that wasn't as evident in recent roles such as Bridesmaids and The Internship.
As for Efron, in the past he's shown signs of being a formidable actor in films like At Any Price and Me And Orson Welles, but here he gets to fall back on his not-inconsiderable hunky charm, delivering one of his most effortless, appealing performances. In contrast to Mac's working-stiff schlub, Teddy is a brash, strapping stud, and Efron smartly underplays the character, letting Teddy's sense of Adonis-like superiority always linger in the air to torment Mac. But the character has other dimensions: Eventually, it becomes clear that, just as immature Mac is wary of embracing his newfound domesticity, so too does Teddy fear the next step, which is his imminent college graduation. To be sure, Neighbors requires no flexing of dramatic muscles, but Efron pinpoints Teddy's bluster that's meant to conceal his anxiety that his life has peaked as fraternity president.
For a film that's about making peace with growing up, Neighbors has plenty of superbly juvenile jokes involving dildos, illegal drugs and nudity. (One terrific sequence concerns how a husband should cope with his wife's swollen postpartum breasts.) Many modern Hollywood comedies rely on drawn-out improvisation that's often not as witty as its actors believe, but Stoller and his cast for the most part seem to stick to the script. Consequently, Neighbors isn't just really funny, it's also less flabby than its peers.
Production companies: Point Grey, Good Universe
US distribution: Universal Pictures, www.universalpictures.com
Producers: Seth Rogen, Evan Goldberg, James Weaver
Executive producers: Nathan Kahane, Joe Drake, Brian Bell, Andrew Jay Cohen, Brendan O'Brien
Screenplay: Andrew Jay Cohen & Brendan O'Brien
Cinematography: Brandon Trost
Production design: Julie Berghoff
Editor: Zene Baker
Music: Michael Andrews
Website: www.neighbors-movie.com
Main Cast: Seth Rogen, Zac Efron, Rose Byrne, Christopher Mintz-Plasse, Dave Franco, Jerrod Carmichael, Craig Roberts, Ike Barinholtz, Carla Gallo, Lisa Kudrow