The European Film Market's Matthijs Wouter Knol ended his first edition as director today confident that the new initiatives introduced had been accepted by the industry.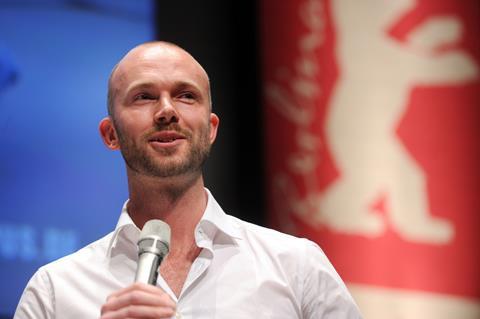 Speaking exclusively to ScreenDaily, Knol explained that the several new initiatives for producers at EFM (Feb 5-13) - such as the Producers Hub, Bridging The Dragon event, and meetings between Berlin-based startups and producers - had shown that the Market is capable of adapting to new areas of business which are interesting for the film industry as well as bringing in new energy and impulses and positioning itself as an international market central in Europe with a strong basis in Berlin.
EFM president Beki Probst summed up Knol's achievement by citing the French and said: "Pour un coup d'essai, c'est un coup de maître" … "For a first attempt, it was brilliant."
Knol said that he would not necessarily be looking to introduce new initiatives at EFM each year. Rather, he would prefer to consolidate what the Market has now established, but at the same time, remain alert to what is happening in the industry and react accordingly.
Turning to the focus on quality TV drama at this year's EFM and the introduction of market screenings of 11 series, Probst said that the feedback she had received indicated that people had appreciated the quality of the series shown in Berlin.
Probst noted that, with the hype about television, there had been a danger of being overwhelmed with trash – as had been the case with 3D - but the EFM line-up had been a boutique selection.
Berlinale Briefs
Heiner Carow Prize
The third Heiner Carow Prize was awarded this year to Jörg A. Hoppe, Klaus Maeck and Heiko Lange for documentary B-Movie: Lust & Sound in West-Berlin, which premiered in the Panorama section.
The DEF Media and Interzone Pictures production follows the path of British musician Mark Reeder during the last decade of West Berlin as a divided city before the fall of the Berlin Wall, from punk to the Love Parade, with authentic film footage and original interviews.
The $5,700 (€5,000) award was launched two years ago by the DEFA Foundation in memory of director Heiner Carow, whose Coming Out won a Silver Bear at the 1990 Berlinale.
AV's manga trio
Germany's leading anime distributor AV Visionen acquired distribution rights to three live-action titles based on popular manga bestsellers.
Takashi Yamazaki's Kiseiju – Parasyte Part 1 based on the manga by Itoshi Iwaaki and was screened during EFM;


Shinji Higuchi's Attack On Titan Part 1 & 2, based on the manga by Hajime Isayama, to be released in Japanese cinemas in August 2015;


Sion Sono's Tokyo Tribe, which presents a new genre, the "rapsical", a hybrid of rap and musical.
Godard to receive Swiss honour
The 2015 Swiss Film Honorary Award – with prize-money of $32,000 (CHF 30,000) – will be presented to veteran director Jean-Luc Godard at this year's Swiss Film Awards in Geneva on March 13.
Godard, who was born into a Franco-Swiss family and has been a Swiss national since 1953, will received the Quartz trophy from the hands of Federal Councillor Alain Berset..
Films by Godard will be shown in cinemas in Geneva and Zurich from March 9-15 as part of the "Nominees Week" when all of the 2015 Swiss Film Award's nominated films are presented in a series of public screenings.