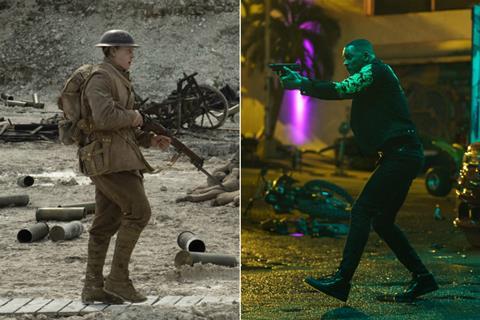 | Rank | Film (Distributor) | Three-day gross (Jan 17-19) | Total gross to date | Week |
| --- | --- | --- | --- | --- |
| 1 | 1917 (eOne) | £6.2m | £18.4m | 2 |
| 2 | Bad Boys For Life (Sony) | £3.8m | £3.8m | 1 |
| 3 | Little Women (Sony) | £1.5m | £16.4m | 4 |
| 4 | The Gentlemen (Entertainment Film Distributors) | £1.09m | £7.9m | 3 |
| 5 | Jumanji: The Next Level (Sony) | £1.07m | £31m | 6 |
GBP to USD conversion rate: 1.30
Sam Mendes' 1917 stayed top of the UK box office for a second consecutive weekend with an excellent hold, as action franchise title Bad Boys For Life exceeded expectations with a £3.8m start.
eOne
1917 took £6.2m on its second weekend, a fall of just 15.7%, to put it on £18.4m to date (with some sites still to report). This is a slightly better hold than another recent hit war film, Christopher Nolan's 2017 Dunkirk, which dropped 18% on its second weekend for £8.2m and a £27m rolling total. With no blockbuster releases until Warner Bros' Harley Quinn-centered comic book adaptation Birds Of Prey on February 7, eOne will look for 1917 to continue its run at number one across several sessions.
Sony
Bad Boys For Life's £3.8m start was the highest of the franchise so far, surpassing the £866,215 of 1995's Bad Boys and the £3.2m of 2003's Bad Boys II. A decent start suggests interest in the franchise has sustained across that time.
Little Women had another strong hold on its fourth weekend, dropping just 27% for £1.5m. It now has £16.4m after four weekends; this is past the £15.3m of Three Billboards Outside Ebbing, Missouri, the strong title from the start of 2018. This week it will also surpass the £17m of last year's January hit The Favourite; although both of those titles were 15-rated compared to Little Women's family-friendly U rating.
In a strong start to the year for Sony, Jumanji: The Next Level is also performing well, dropping 36.3% with £1.1m. The film now has £32.5m after six sessions, and is tracking just 2.6% behind 2017 release Jumanji: Welcome To The Jungle, which had £33.4m at this stage and ended on £38.5m.
Entertainment Film Distributors
Guy Ritchie's The Gentlemen fell 36.5% on its third session, adding £1.1m to take it to £7.9m to date.
Disney
Star Wars: The Rise Of Skywalker fell 51.4% on its fifth weekend, with £900,000 bringing it to £56.5m total. It is now the fifth highest-grossing 2019 release and 25th highest-grossing film of all time in the UK, surpassing the £56.4m of 1999 franchise companion Star Wars: Episode I – The Phantom Menace.
However, it is underperforming compared to the prior two Star Wars titles. 2017 release The Last Jedi took £1.7m on its fifth session for £80m, on its way to £82.7m total; while 2015 release The Force Awakens added an impressive £3.1m on its fifth weekend, as part of £114m by that stage and as part of a £123.2m final cume – still the record gross for a film in the UK.
Jojo Rabbit dropped 36.8% on its third weekend with £651,000 and has £4.3m in total so far.
Frozen II added £514,000 – a 33.8% fall – on its ninth session, and is up to £51.9m, the UK's 35th highest-grossing title of all time.
Spies In Disguise added £509,000, a low 25.1% drop, for a decent total of £5.8m after four weekends.
Terrence Malick's Cannes 2019 title A Hidden Life opened to £51,000 and has £63,100 including previews and festival screenings.
Lionsgate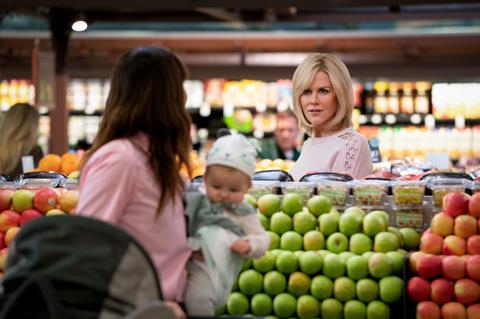 Awards contender Bombshell started with £686,050 on the weekend from 484 locations for a £1,417 location average. With previews, the film has £736,852.
Knives Out dropped 58.5% on an impressive eighth weekend, bringing in £142,549 for £12.6m to date.
Warner Bros
Destin Daniel Cretton's legal drama Just Mercy starring Michael B. Jordan and Jamie Foxx opened to £474,000 from 376 locations for a £1,273 location average.
National Amusements
Makoto Shinkai's Weathering With You, his first feature since 2016 international hit Your Name, started well, taking £152,140 from 57 locations for a £2,717 average. With previews, the film has £221,320 in total, almost 10 times that of Your Name's £22,274 opening.
Paramount
Playing With Fire dropped 39.6% on its fourth session with £145,000 taking it to £2.6m.
Universal
Trey Edward Shults' Waves began with £51,609 from 136 locations, a £379 location average. Including previews, the film has £62,905.
On its fifth weekend, Cats dropped 65.6% with £148,771 and has £11.6m to date.
Modern Films
Documentary Be Natural: The Untold Story Of Alice Guy-Blaché opened to £2,902 from five locations, and has £4,102 including previews. The film centres on one of the first female filmmakers, who directed over 1,000 films.