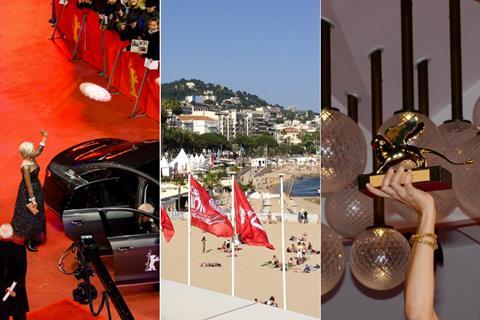 To help keep track of the changing schedule, Screen is keeping this page updated with the latest film festival and market dates, postponements and cancellations.
Festivals taking place online or as hybrid events due to Covid-19 are noted. If not specified, the festival is currently set as a physical event.
To submit details of a change to your festival dates/status, please contact us here with the name, dates, and website for the event, and if it is running online, physically, or both.
Previous events
Belmont World Film Family Film Festival, US – January 14-23, hybrid
FIPADOC Documentary Film Festival, France – January 17-23, in-person
Sundance Film Festival, US – January 20-30, online
Mountainfilm, US – January 28-30, online
International Film Festival Rotterdam, Netherlands – January 26-February 6, online
Goteborg Film Festival, Sweden - January 28 – February 6, hybrid
Docpoint Helsinki Documentary Film Festival, Finland – January 31-February 6, online
SCAD TVFest, US – February 3-5, in-person
European Film Market, Germany - February 10-17, online
Berlin International Film Festival, Germany – February 10-20, in-person
BFI Future Film Festival, UK – February 17-20, online
Dublin International Film Festival, Ireland – February 23-March 6, hybrid
True/False Film Fest, US – March 3-6, in-person
Cartoon Movie, France - March 8-10, in-person
Glasgow Film Festival, UK – March 2-13, hybrid
Miami Film Festival, US – March 4-13, in-person
Celebrating Women in MEDIA, Europe - March 8-13, online
Hong Kong Asia Film Financing Forum, Hong Kong – March 14-16, online
Borderlines Film Festival, UK – March 4-20, hybrid
Sofia International Film Festival, Bulgaria – March 10-20, in-person
Thessaloniki Documentary Festival, Greece – March 10-20, in-person
Mostly British Film Festival, US - March 10-17, in-person
SXSW, US – March 11-20, in-person
Filmart, Hong Kong – March 14-17, online
Sofia Meetings, Bulgaria – March 16-20, in-person
BFI Flare: London LGBTQIA+ Film Festival, UK - March 16-27, hybrid
Series Mania, France – March 18-25, in-person
Malaga Film Festival, Spain – March 18-27, in-person
Sonoma International Film Festival, US - March 23-27, hybrid
CPH:DOX, Denmark – March 23-April 3, in-person
Vilnius International Film Festival, Lithuania – March 24-April 3, in-person
Sun Valley Film Festival, US – March 30-April 3, in-person
Canneseries, France – April 1-6, in-person
MIPTV, France – April 4-6, in-person
DOX:Online, Denmark - April 1-10, online
Diagonale, Austria – April 5-10, in-person
Hong Kong International Film Festival, Hong Kong – March 31-April 11, in-person
Visions du Réel, Switzerland - April 7-17, in-person
Istanbul Film Festival, Turkey – April 8-19, in-person
Seattle International Film Festival, US – April 14-24, hybrid
Fantaspoa Film Festival, Brazil – April 13-May 1, hybrid
Far East Film Festival, Italy – April 22-30, in-person
San Luis Obispo International Film Festival, US - April 26-May 1, in-person
Indian Film Festival of Los Angeles, US - April 28-May 1, hybrid
Jeonju International Film Festival, South Korea - April 28-May 7, in-person
IndieLisboa International Film Festival, Portugal – April 28-May 8, in-person
HotDocs, Canada – April 28-May 8, hybrid
Harlem International Film Festival, US - May 5-8, hybrid
Frames of Representation, UK - May 5-12, in-person
Belmont World Film's International Film Series, US - March 21-May 16, hybrid
Brixton Village Screen Film Fest, UK - May 10-15, in-person
Beldocs International Documentary Film Festival, Serbia – May 11-18, in-person
Israel Film Festival, US - May 11-26, hybrid
Cannes Film Festival, France – May 17-28, in-person
Nippon Connection Film Festival, Germany – May 24-29, in-person
Cheltenham International Film Festival, UK - May 23-June 2, hybrid
Docaviv, Israel – May 26-June 5, in-person
Inside Out Toronto LGBTQ+ Film Festival, Canada – May 26-June 5, hybrid
Monaco Streaming Film Festival, Monaco – May 31-June 2, in-person
New Media Film Festival, US - June 1-2, in-person
Krakow Film Festival, Poland – May 29-June 5, in-person; June 3-12, online
Cine Las Americas, US - June 8-12, hybrid
Sundance Film Festival London, UK – June 9-12, in-person
Balinale - Bali International Film Festival, Indonesia - June 9-12, in-person
Ramsgate International Film & TV Festival, UK – June 9-12, in-person
BANFF World Media Festival, Canada - June 12-15, in-person
NFMLA Monthly Film Festival | InFocus: LGBTQ+ & InFocus: Disability, US - June 18, in-person
Annecy International Animation Film Festival and Market, France – June 13-18, in-person
Tribeca Film Festival, US – June 8-19, in-person
Sydney Film Festival, Australia – June 8-19, in-person
Provincetown Film Festival, US – June 15-19, in-person
Monte Carlo Television Festival, Monaco – June 17-21, in-person
Transilvania International Film Festival, Romania – June 17-26, in-person
CineEurope, Spain – June 20-23, in-person
Kingston International Film Festival, UK - June 24-26, in-person
Oak Cliff Film Festival, US – June 23-26, in-person
Ponta Lopud Film Festival, Croatia - June 22-27, in-person
Nantucket Film Festival, US - June 22-27, in-person
Munich Film Festival, Germany – June 23-July 2, in-person
Brussels International Film Festival, Belgium – June 23-July 2, in-person
Taormina Film Fest, Italy - June 26-July 2, in-person
Bentonville Film Festival, US - June 22-July 3, hybrid
Karlovy Vary International Film Festival, Czech Republic – July 1-9, in-person
Galway Film Fleadh, Ireland - July 5-10, in-person
Over-The-Rhine International Film Festival, US - July 7-10, in-person
Bucheon International Fantastic Film Festival, South Korea - July 7-17, hybrid
Indy Shorts International Film Festival, US – July 19-24, hybrid
Comic-Con, US – July 21-24, in-person
Deep in the Heart Film Festival, US - July 21-24, in-person
New York Asian Film Festival, US - July 15-31, in-person
New Horizons International Film Festival, Poland – July 21-31, in-person
Jerusalem Film Festival, Israel – July 21-31, in-person
NFMLA Monthly Film Festival | InFocus: Canadian Cinema, US - July 30, in-person
Fantasia Film Festival, Canada – July 14-August 3, in-person
Locarno Film Festival, Switzerland – August 3-13, in-person
Sarajevo Film Festival, Bosnia & Herzegovina – August 12-19, in-person
Melbourne International Film Festival, Australia – August 4-21, in-person
Edinburgh International Film Festival, UK - August 12-20, in-person
Sidewalk Film Festival, US - August 22-28, in-person
FrightFest, UK - August 25-29, in-person
NFMLA Monthly Film Festival | InFocus: International Animation, August 27, in-person
Cork French Film Festival, Ireland - September 1-4, in-person
Venice International Film Festival, Italy – August 31-September 10, in-person
Deauville American Film Festival, France – September 2-11, in-person
Toronto International Film Festival, Canada – September 8-18, in-person
Prague Independent Film Festival, Czech Republic – September 15-18, in-person
Finnish Film Affair, Finland – September 21-23, in-person
San Sebastian International Film Festival, Spain - September 16-24, in-person
NFMLA Monthly Film Festival | InFocus: Latinx & Hispanic Cinema, US - September 24, in-person
Prishtina International Film Festival, Kosovo – September 20-25, in-person
Calabasas Film Festival, US - September 21-25, in-person
Zurich Film Festival, Switzerland – September 22-October 2, in-person
Calgary International Film Festival, Canada - September 22-October 2, hybrid
Out on Film, US - September 23-October 2, hybrid
Encounters Short Film Festival, UK - September 27-October 2, in-person
Tallgrass Film Festival, US – September 28-October 2, hybrid
Dinard Festival of British Film, France - September 28-October 2, in-person
Filmfest Hamburg, Germany - September 29-October 8, in-person
Korean Film Festival, Belgium - September 29-October 7, in-person
Reykjavik International Film Festival, Iceland - September 29-October 9, in-person
Mile High Horror Film Festival, US – October 6-12, in-person
Production Finance Market, UK - October 11-12, in-person
New York Film Festival, US - September 30-October 16, in-person
BFI London Film Festival, UK - October 5-16, hybrid
Busan International Film Festival, South Korea - October 5-14, in-person
DocLisboa, Portugal – October 6-16, in-person
Heartland International Film Festival, US – October 6-16, hybrid
Mill Valley Film Festival, US - October 6-16, in-person
Hot Springs Documentary Film Festival, US - October 7-15, in-person
Hamptons International Film Festival, US – October 7-16, in-person
The American French Film Festival, US - October 10-16, in-person
MIA Market, Italy - October 11-15, in-person
Haifa Film Festival, Israel – October 8-17, in-person
Newport Beach Film Festival, US – October 13-20, in-person
MIPCOM, France – October 17-20, in-person
Film Fest Ghent, Belgium – October 11-22, in-person
NFMLA Monthly Film Festival | InFocus: Veteran Cinema, US - October 22, in-person
Rome Film Festival, Italy - October 13-23
DOK Leipzig, Germany – October 17-23, in-person
Bergen International Film Festival, Norway - October 19-27, in-person
TIFFCOM, Japan – October 25-27, online
Adelaide Film Festival, Australia - October 19-30, in-person
Byron Bay International Film Festival, Australia - October 21-30, in-person
Ji.hlava International Documentary Film Festival, Czech Republic – October 25-30, in-person
Richard Harris International Film Festival, Ireland - October 26-30, in-person
Naples International Film Festival, US - October 27-30, in-person
Evolution Majorca International Film Festival, Spain - October 26-November 1, in-person
Tokyo International Film Festival, Japan – October 24-November 2, in-person
Raindance Film Festival, UK – October 26-November 5, in-person
NFMLA DocuSlate Documentary Film Festival, US - November 5, in-person
American Film Market (AFM), US - November 1-6, in-person
Aesthetica Short Film Festival, UK - November 1-6, in-person
AFI Fest, US - November 2-6, in-person
Belfast Film Festival, UK - November 3-12, in-person
Qisah International Film Festival, UK - November 9-12, in-person
Thessaloniki International Film Festival, Greece - November 3-13, in-person
Geneva International Film Festival, Switzerland - November 4-13, in-person
Fort Lauderdale International Film Festival, US - November 4-13, in-person
American Film Festival, Poland – November 8-13, in-person
Sound Unseen Film + Music Film Festival, US - November 9-13, hybrid
Coronado Island Film Festival, US - November 9-13, in-person
Inside Out Ottawa 2SLGBTQ+ Film Festival, Canada - November 10-13, hybrid
London Korean Film Festival, UK - November 3-17, in-person
DOC NYC, US – November 9-17, in-person
Marrakech International Film Festival, Morocco - November 11-19, in-person
Camerimage, Poland - November 12-19, in-person
NFMLA Monthly Film Festival | InFocus: Indigenous Cinema, US - November 19, in-person
International Documentary Filmfestival Amsterdam (IDFA), Netherlands - November 9-20, in-person
Stockholm Film Festival, Sweden - November 9-20, in-person
European Film Forum SCANORAMA, Lithuania - November 10-20, in-person
Cork International Film Festival, Ireland - November 10-20, hybrid
Norwich Film Festival, UK – November 11-20, hybrid
Tallinn Black Nights Film Festival, Estonia – November 11-27, in-person
British Urban Film Festival, UK - November 26-December 2, in-person
Ventana Sur, Argentina - November 28-December 2, in-person
Singapore International Film Festival, Singapore - November 24-December 4, in-person
Singapore Media Festival, Singapore - November 24-December 9, in-person
Asia TV Forum & Market, Singapore - December 7-9, in-person
Red Sea International Film Festival, Saudi Arabia - December 1-10, in-person
NFMLA Monthly Film Festival | InFocus: Middle Eastern Cinema, Arab & Dutch Cinema, US - December 10, in-person
French Film Festival, UK - November 2-December 15, in-person
Les Arcs Film Festival, France - December 10-17, in-person