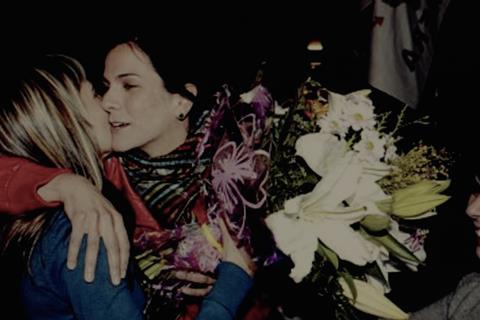 918 Nights, by Spanish director Arantza Santeseban, has won the best film prize at Portuguese documentary festival Doclisboa which closed yesterday, October 31.
The film centres on Santeseban's 918 nights of incarceration after being arrested in 2007 for links with the ETA Basque separatist organisation, re-examining the pictures and words she created during this time.
The jury award was presented to The Safest Place In The World, co-directed by Brazil's Aline Lata and Helena Wolfenson, a portrait of a man who became the victim of a major socio-environmental tragedy after his city was overwhelmed following the collapse of a dam.
Clément Abbey's Public Library, about the regulars and random visitors seeking refuge in Paris' public library, received an honourable mention from the jury which was comprised of Argentina's Alejandro Fernándet Moujan, Germany's Vika Kirchenbauer and Portugal's Manuela Serra.
The Portuguese Competition was won by Tiago Afonso's Distopia, which follows the changes in the social fabric of the city of Porto over the course of 13 years from 2007 to 2020.
The Portuguese Authors Society's award was presented to Leonardo Mouramateus' Half A Light-Year set in a busy street in Lisbon.
Romanian filmmaker Sebastian Mihailescu's experimental documentary You Are Ceaucescu To Me won the new talent award for best first feature-length film, with an honourable mention going to Valeria Mazzucchi and Antoine Harari's The Spark,. The latter is about the struggle against plans for an airport in Notre-Dame-des-Landes.
Further prizes included the healthy workplaces award to Yoon by co-directors Pedro Figueiredo Neto and Ricardo Falcao, which follows a Senegalese man's 4,000-kilometre perilous and lonely journey between Portugal and Senegal, and the award for best Portuguese debut went to Taymour Boulos' experimental film Sounds of Weariness, about life in a Brussels self-service launderette.
Industry prizes
DocLisboa's industry programme Nebulae was held from October 21-31 and showcased 12 Ibero-American projects in different stages of production as part of the onsite Arché project development lab.
The award for the best project at the editing of first-cut stage went to Juan Jose Periera's Under The Flags, The Sun from Paraguay and Argentina, and the award for the best project in the development or writing stage went to Argentinian director Natalia Garayalde's Bea VII.
DocLisboa ran as a physical event from October 21-31 in Lisbon.
"It's a place for people to share ideas and experiences," say Doclisboa's three co-heads