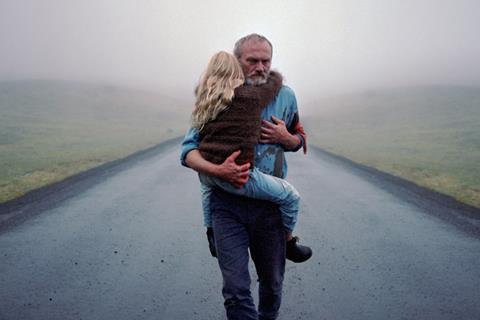 Hlynur Pálmason's second feature A White, White Day has won the top prize at Nordic Film Days in Lubeck in Germany.
The NDR Film Prize includes a cash award of €12,500.
It is the second consecutive year an Icelandic film has won the award following Benedikt Erlingsson's Woman At War win in 2018.
A White, White Day premiered at Cannes Critics' Week and is a tale of grief and revenge, revolving around a former policeman in a small Icelandic town. International sales are handled by New Europe Film Sales and a German theatrical release is planned by Arsenal Filmverleih on February 13, 2020.
Pálmason is the fourth Icelandic filmmaker in recent years to receive Lübeck's top award. As well as Woman At War, the NDR Film Prize was won by Gudmundur Arnar Gudmundsson's debut Heartstone in 2016 and Baldvin Z.'s Life In A Fishbowl in 2014.
Another Icelandic filmmaker among the prize-winners this year was Rúnar Rúnarsson, whose offbeat Christmas film Echo won the Interfilm Church Film Prize.
French outfit Jour2Fête is handling sales on the film, which uses 56 scenes from Iceland over the festive period to create a portrait of modern society. Rúnarsson was previously at Nordic Film Days with shorts in 2004, 2009 and 2010 as well as feature debut Volcano in 2015 and Sparrows in 2016.
Meanwhile, new films from Finland proved popular this year. The prize for best feature went to Miia Tervo's Aurora while the children's and youth prize was awarded to Selma Vilhunen's Stupid Young Heart.
Tickets for Mika Kaurismäki's latest feature Master Cheng were impossible to obtain as the screenings swiftly sold out. It was, therefore, no great surprise the gentle comedy was selected by festival-goers for the audience award, with the public being able to vote online for the first time this year.
Handled internationally by The Yellow Affair, the Finland-China co-production will be released in German cinemas next year by MFA+ Filmdistribution, which is also set to release Out Stealing Horses - another competition title - at the end of November.
The festival's documentary film prize went to another Finnish production, The Power Of Yoik by Paul-Anders Simma. The director could not make the journey from northern Finland to Lubeck due to a heavy blizzard but sent a video message from a snowy landscape that was played at the awards ceremony on Saturday evening.
The Nordic Film Days collaborated with Creative Europe and local film fund Filmförderung Hamburg Schleswig-Holstein for the 9th edition of Lübeck Meetings. This included private industry screenings for German distributors to view films from the Nordic region looking for theatrical distribution as well as the Media Meetings networking event for Nordic and Baltic producers and their German counterparts to discuss co-production opportunities.