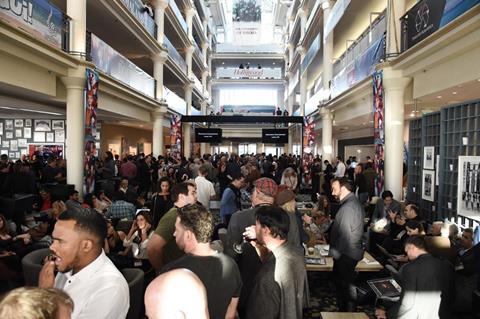 Industry innovators, international pre-sales, and diverse content will come under the spotlight during the AFM Conferences at the American Film Market in Santa Monica next month.
The conferences kick off on November 8 at the Fairmont Hotel when Picturestart CEO Erik Feig, Alamo Drafthouse Cinema founder Tim League, Wattpad Studios head Aron Levitz, and Neon CEO Tom Quinn will take part in a session called Breaking The Mold: The Innovators.
The Producing For The International Pre-sales Marketplace panel features Cold Iron Pictures CEO Miranda Bailey, The H Collective president of production Sherryl Clark, Cornerstone Films co-president Mark Gooder, and Nat McCormick, executive vice-president of worldwide distribution at The Exchange.
As part of its new Television Conference, network executives including Disney's vice-president of original programming Lauren Kisilevsky, the History Channel's vice-president of development and programming Mike Stiller, and Lifetime Original Movie's vice-president of programming Tia Maggini will discuss their feature-length programming needs and priorities.
Producer Effie Brown will join AFM's Pitch Conference as a panellist and advisor, while new speakers for the Immersive Summit presented by Winston Baker include Rick Hack, head of media and entertainment partnerships, Intel Studios, Laura Hertzfeld, director of XR partnerships, Verizon Media's Yahoo! News, film director Randal Kleiser, and Lauren Xandra, director of strategic initiatives, National Research Group.
AFM's Palisades Stage at the Loews Hotel will host roundtables and presentations. FilmNation CEO Glen Basner and producers Cassian Elwes and Zanne Devine will join ShivHans Pictures president of production Monica Levinson to discuss how to bring diverse projects to the market. Bankside director of sales and marketing Stephen Kelliher, UTA partner Keya Khayatian, Ponyboi director and star River Gallo, Revry co-founder LaShawn McGhee, and Outfest board member Valerie Stadler will take part in a talk on producing LGBTQ content in a time of unprecedented visibility.
Submarine co-president Josh Braun, Abramorama head of West Coast acquisitions and business development Evan Saxon, producer Alexandra Johnes from Very Special Projects, and Fishbowl Films co-founder Melanie Miller will explore how to distribute and monetise documentaries. Epic Pictures CEO Patrick Ewald, V/H/S producer Roxanne Benjamin, and Vanishing Angle vice-president of development and production Natalie Metzger will debate why some horror films work and others do not.
Rounding out the schedule is a talk on shooting intimate scenes with Euphoria and The L Word intimacy coordinator Amanda Blumenthal, founder of Intimacy Professionals Association.
The 40th anniversary AFM runs from November 6-13.