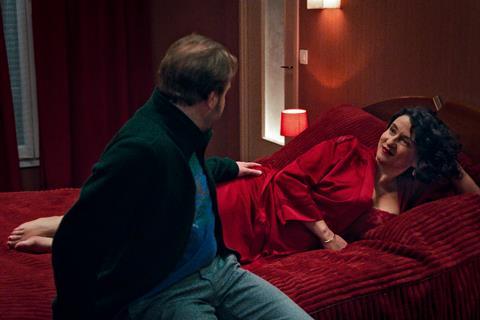 The world premiere of French filmmaker Alain Guiraudie's Nobody's Hero will open the Panorama section at next month's Berlin International Film Festival, marking the first time the director has screened at the event.
Nobody's Hero is one of 16 world premiere additions to the Panorama strand, joining the 13 titles confirmed last month for a complete list of 29 films.
Scroll down for the full list of new titles
The film takes place after a terrorist attack in Clermont-Ferrand in France, and centres on a likeable man in his mid-thirties, an older married female sex worker and a young homeless man of Arab descent.
Jean-Charles Clichet, Noémie Lvovsky, Iliès Kadri, Renaud Rutten and Doria Tillier star.
It is Guiraudie's eighth feature film; his notable titles include romantic thriller Stranger By The Lake, which premiered in Un Certain Regard at Cannes 2013, winning the directing prize for Guiraudie as well as the Queer Palme for best LGBTQIA+ film.
Also added to the Panorama section is Alauda Ruiz de Azua's debut film, Spanish feature Lullaby, starring Victoria lead Laia Costa alongside Susi Sanchez, Ramon Barea and Mikel Bustamente.
The film follows two new parents whose lives are disrupted when the father disappears for work, and mother's mother falls ill.
Twenty-five of the 29 Panorama titles are world premieres, with nine of them from first-time feature filmmakers.
Berlinale Series Market
The European Film Market has also confirmed February 14-16 as the dates for the online Berlinale Series Market, which will include talk formats, showcases from international production companies, and online screenings.
Introduced last year, a label named Berlinale Series Market Selects will again showcase a selection of series that will be traded at the market.
Among the 14 titles selected for the label are The Crown producers Left Bank Pictures' new UK series The Fear Index, starring Josh Hartnett and to be broadcast by Sky.
EFM director Dennis Ruh described the Series Market selection as "very international" and "varied".
"The 'Berlinale Series Market' has developed into an integral part of the EFM, reflecting the growing diversification of our exhibitors' sales and promotion portfolios," said Ruh.
Events on the Series Market conference programme include an in-conversation session with directors Lone Scherfig and Daniel Burman, both of whom are participating in the market. There will also be a panel titled 'Shaping a New Market – African Female Talent', looking at the question of whether women in Africa have succeeded in obtaining the same conditions as their male colleagues.
The Berlinale Co-Production Market has also selected 10 series in search of international partners, that will be presented at its pitch event on February 15.
Projects at the Co-Production Market include The Report, produced by Germany's Match Factory Productions, which was bought last week by international sales, distribution and production firm Mubi.
The series, which is in development, will continue to be made by Match Factory Productions. Writer Ben von Ronne previously created Emmy-nominated TV movie Toter Winkel; The Report is based on a murder case in Lebanon with political connections, which is to be solved by an international team of investigators.
Also selected are Spin Control, starring Compartment No. 6 actress and 2021 European Shooting Star Seidi Haarla as an environment PR consultant. Produced by Finland's Tuffi Films, it will be directed by Alli Haapasalo, whose film Girl Picture premieres at Sundance Film Festival this month before playing in the Generation section at Berlinale.
Isabel Coixet is also attached to direct Spanish-Colombian series Picadero, which is participating in the Market in cooperation with Series Mania.
The Berlinale Competition will be announced tomorrow morning from 10am GMT (11am CET); with the festival running in-person from the reduced dates of February 10-16.
Berlinale and EFM 2022 additions
Panorama (previously announced titles here)
All world premieres
Love, Deutschmarks And Death (Ger) dir. Cem Kaya - documentary
Happiness (Kaz) dir. Askar Uzabayev
Beautiful Beings (Ice-Den-Swe-Neth-Cze) dir. Gudmundur Arnar Gudmundsson
Bettina (Ger) dir. Lutz Pehnert - documentary
Lullaby (Sp) dir. Alauda Ruiz de Azua
Concerned Citizen (Isr) dir. Idan Haguel
Una Femmina – The Code Of Silence (It) dir. Francesco Costabile
Fogaréu (Braz-Fr) dir. Flavia Neves
Grand Jeté (Ger) dir. Isabelle Stever
Working Class Heroes (Ser) dir. Milos Pusic
Somewhere Over The Chemtrails (Cze) dir. Adam Koloman Rybansky
No Simple Way Home (Ken-S Sud-S Afr) dir. Akuol de Mabior - documentary
No U-Turn (Nig-S Afr-Fr-Ger) dir. Ike Nnaebue - documentary
Northern Skies Over Empty Space (Mex) dir. Alejandra Marquez Abella
Convenience Store (Rus-Slovenia-Turk) dir. Michael Borodin
Nobody's Hero (Fr) dir. Alain Guiraudie
Berlinale Series Market Selects 2022
Black Wedding (Ser) cre. Nemanja Cipranic, Strahinja Madzarevic; sales. Firefly International
The Fear Index (Eng) wri. Paul Andrew Williams, Caroline Bartleet; sales. NBCUniversal
A Woman's Fate (Braz) cre. Adriana Falcao, Jo Abdu, Martha Mendonca, Nelito Fernandes; sales. Globo
Harmonica (Swe) cre. Josephine Bornebusch, Jonas Karlsson; sales. Nordic Entertainment Group
Identification (Rus) cre. Vladlena Sandu, Nikita Ikonnikov; sales. 1-2-3- Production
False Flag S3 (Isr) cre. Maria Feldman, Leora Kamenetzky, Amit Cohen; sales. Keshet International
Oh Hell (Ger) cre. Johannes Boss; sales. WarnerTV International
Recipes For Love And Murder (S Afr) cre. Karen Jeynes, based on a novel by Sally Andrew; sales. Global Screen
Storm Lara (Bel) cre. Daan Gielis; sales. Keshet International
The Silence (Cro-Ukr) cre. Marjan Alcevski, Miodrag Sila, Nebojsa Taraba, Dalibor Matanic; sales. Beta Film
Trom (Den-Far) cre. Torfinnur Jakupsson; sales. REinvent International Sales
Vanda (Por) cre. Patricia Muller; sales Legendary Television
Divided We Stand (Ger) prods. Gabriela Sperl, Quirin Berg, Max Wiedemann, Miriam Klein; sales. Beta Film
Berlinale Co-Production Market 2022
The Promised Land (Arg) prod. Gaman Cine
Nowheresville (Nor) prod. Hummelfilm
Belcanto (It) prod. Lucky Red
The Report (Ger) prod. Match Factory Productions
Winterland (Den) prod. Nimbus Film
This Is Not A Murder Mystery (Bel) prod. Panenka
The Attachment Theory (Cze) prod. Pink
You Are Obsolete (Can) prod. Sienna Films
Spin Control (Fin) prod. Tuffi Films
Picadero (Sp-Col) prods. Amor Y Lujo, Zeta Studios, Fidelio Films – in cooperation with Series Mania