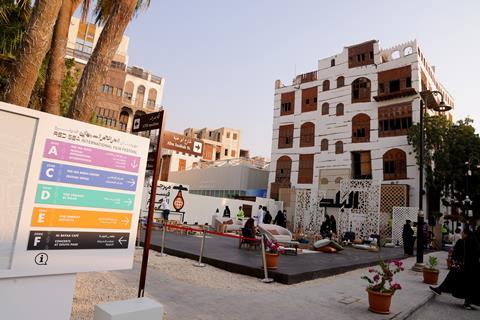 Saudi Arabia's Red Sea International Film Festival (RSIFF) has unveiled the 12 projects selected for this year's edition of its Red Sea Lodge project and talent development programme.
Of the 12 projects selected, six are from Saudi Arabia while the other projects are from Egypt, Algeria, and Lebanon, with 50% of the participants directed, produced, and written by women
The selection includes Saudi director and writer Hana Alomair's feature directorial debut Seasons Of Love And War. The love triangle tale set in an oasis village in the 1920s is adapted from Amal Alfaran's novel Divers In The Desert
Algerian filmmaker Sofia Djama's second feature A Quarter To Thursday In Algiers, about a woman whose plans to deal with an unwanted pregnancy, are derailed by other life events, is also in the selection. It previously won best project in development at the El Gouna Film Festival's Cinegouna project market last October.
Djama's debut film The Blessed premiered in Venice's Horizons line-up in 2017, winning the Brian Award and Lina Mangiacapre prize as well as best actress for Lyna Koudri.
Egyptian-US director Dina Amer, whose documentary You Resemble Me made waves on the festival circuit last year, will participate with her project Cain And Abel.
The selection committee included Torino Film Lab executive director Savina Neirotti and head of studies Violeta Bava, Red Sea Lodge manager Jumana Zahid as well as the Red Sea festival's managing director Shivani Pandya Malhotra, director of the Arab programme Antoine Khalife and director of international programming Kaleem Aftab.
The eight-month programme, aimed at filmmakers in the Middle East and North Africa, will run online and in-person across the rest of the year with a final workshop and prize-giving ceremony during the second edition of the RSIFF which is due to run December 1-10.
Two projects will receive $100,000 production grants at the second edition of the Red Sea International Film Festival in December and there will also be a host of sponsored prizes.
Last year, Dalyah Bakheet's The Photographer Of Madina, inspired by the director's great aunt, won the $100,000 jury prize for the best Saudi project in development. The $100,000 prize for best project by a non-Saudi filmmaker was awarded to Jordanian director Zaid Abuhamdan' for his genre tale The Zarqa Girl, about a tough street-fighting heroine who rises to power in a world dominated by male thugs.
"The feedback from past participants has been very encouraging and this year's selection is an exciting slate of projects with bold cultural and social ambitions from a diverse selection of voices," said Pandya Malhotra. "The Red Sea Lodge is now building momentum and proving to be a vital support initiative which helps Arab talent to reach new heights in their film careers and ultimately amplify the impact of Saudi and Arab film around the world."
The six selected projects from Saudi Arabia are:
Seasons of Love & War
Dir. Hana Alomair
Prod. Soha Samir
A Last Argument Against Youth
Dir. Mohemmed Algbreen
Prod. Raghad Bajbaa
The Crow Nest
Dir. Feras Almusharrei
Prod. Razan Al Soghayer
Al Qais
Dir. Lujain Hussain
Prod. Abdulrahman Hakeem
Tahweedah
Dir. Omar Al Omirat
Prod. Asd Alkarimi.
Yajuj: Curse Of Iram
Dir. Fahmi Farahat
Prod. Jomana Alquraish
Projects from the wider Arab world
The Settlement (Egy, Fr)
Dir. Mohamed Rashad
Prod. Hala Lotfy
A Quarter To Thursday In Algiers (Alg, Fr)
Dir. Sofia Djama, Aurélie Turc

Cain And Abel (Egy, US, Fr)
Dir. Dina Amer
Prod. Karim Amer
Dogmas (Fr, Alg)
Dir. Salah Issaad
Prod. Taqiyeddine Issaad
Bubblegum Brigades (Leb)
Dir. Samah El Kadi
Prod. Michelle Ayoub
Aisha Can't Fly Away Anymore (Egy)
Dir. Morad Mostafa
Prod. Sawsan Yusu