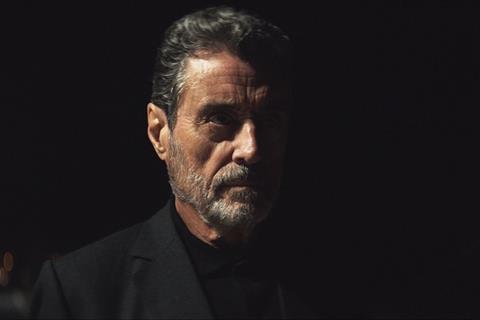 Altitude has boarded international sales on Gonzalo Lopez-Gallego's thriller American Star led by Ian McShane, with the film completing production on the Spanish island of Fuerteventura.
Screen can reveal a first-look image of the film, above; Altitude will introduce it to buyers during Cannes.
American Star follows an assassin on a final assignment in Fuerteventura, to kill a man he has never met. When his target is delayed, he finds himself drawn to the island, people and a ghostly shipwreck; and when the target returns, everything has changed.
Nora Arnezeder, Adam Nagaitis, Fanny Ardant, Thomas Kretschmann, Oscar Coleman and Andres Gertrudix star alongside McShane.
The film is produced by Michael Elliott for Emu Films and McShane for his Tamariska Inc, both out of the UK; with Pedro Hernandez Santos as executive producer for Aqui Y Alli Films alongside Walli Ullah and Emu's Jim Mooney. Nacho Faerna wrote the screenplay.
Further executive producers and financiers are Terry Smith with Phil Hunt and Compton Ross for Headgear Films; Norman Merry and Peter Hampden for Lipsync; and Evangelo Kioussis and Simon Baxter for Richmond.
Lopez-Gallego describes American Star as "the story of a man at a vital crossroad. A point of no return. It's the story of a place and time that provokes a change. A stagnant life turned upside down by a journey. A reflection on the paths we choose in life. The wrong ones and the right ones."
McShane previously starred in Lopez-Gallego's 2016 crime thriller The Hollow Point, which Altitude's distribution arm released in the UK and Ireland.