Bullyparade – Der Film will be based on the German cult TV series.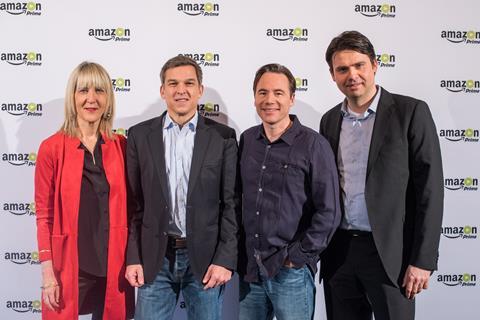 Amazon Prime is to become a partner on German comedy star Michael Bully Herbig's latest feature film Bullyparade – Der Film, based on his eponymous cult TV series [pictured].
As part of their collaboration, the co-production between Herbig's Munich-based herbX Film and Warner Bros. Film Productions Germany will receive its exclusive small screen premiere on the streaming service six months after its 2017 theatrical opening by Warner Bros. and before its release on DVD and other outlets.
"Our customers love German series and films," said Amazon Video Germany MD Christoph Schneider. "The cooperation with Michael Bully Herbig and Warner Bros. is our next step to further expand our commitment to German films and series and make them available exclusively to our customers."
The collaboration between Herbig and Amazon has been announced just a month after the streaming service revealed that it signed a deal with another of Germany's stars, the actor-producer-director Matthias Schweighöfer, to produce the thriller series Wanted as an Amazon Originals series.
Wanted will be produced by Schweighöfer's company Pantaleon Entertainment AG with Warner Bros. Entertainment and Warner Bros. International Television Production Deutschland.
Herbig's Bullyparade – Der Film comes 20 years after the premiere of his cult comedy show Bullyparade on the private channel ProSieben and will see him reunited with actors Rick Kavanian and Christian Tramitz, who previously appeared with him in the box-office hits Manitou's Shoe (2001) and (T)Raumschiff Surprise – Periode 1 (2004).
Kavanian and Tramitz have joined Herbig and Alfons Biedermann on writing the screenplay for the film which will begin shooting in Spain in March before moving to locations in Munich and the Bavaria Film studios.