Award-winning director and producer to join execs from BBC Films, StudioCanal, See-Saw Films, eOne and more at annual summit.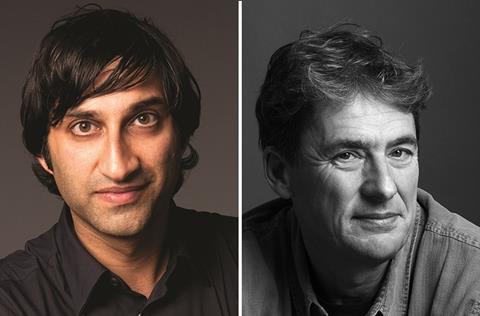 Asif Kapadia, director of documentaries Amy and Senna, and Working Title co-founder Tim Bevan have joined the line-up of this year's Screen Film Summit, which will be held at London's Picturehouse Central on Dec 10.
Kapadia, the BAFTA-winning director behind The Warrior, Far North, Senna and the most successful documentary of the year, Amy, will be the subject of a Director in Focus session to give a unique insight into his process and discuss the creation of a sustainable film industry for new filmmakers.
Bevan, co-founder of Working Title with Eric Fellner, will be the subject of a Producer in Focus session and will discuss the genesis and growth of his company as well as the challenges it faces in the current climate.
The company, now owned by Universal Studios, is one of the world's leading film production companies, grossing over $6bn worldwide across more than 100 films such as Billy Elliot, Les Miserables, Fargo and Notting Hill as well as more recent releases The Theory Of Everything and Everest.
Kapadia and Bevan join a line-up that includes an in-depth look at the changing habits of UK audiences and what that means for producers and distributors, with a focus on British and low budget films along with key trends in the independent sector.
A session on Marketing Movies will include StudioCanal's Hugh Spearing, Curzon Artificial Eye's Jon Rushton and Beyond Clueless director Charlie Lyne.
BBC Films exec Joe Oppenheimer and Northern Ireland Screen's Richard Williams will reveal what every producer needs to know about public funding in a session on How to Fund and Sell Your Film.
See-Saw Films' Iain Canning, Warp Films' Mark Herbert, Olsberg SPI's Jonathan Olsberg and Riverstone Pictures' Nik Bower will explore the current financial landscape from a creative point of view in the session From the Producer's Eye.
Show Me the Money! will explore co-production and international opportunities for UK filmmakers with Element Pictures' Ed Guiney, producer of The Lobster and awards favourite Room, alongside UKTI's Gina Fegan and Nyman Libson Paul's Kirsty Bell.
Where's the Talent? will discuss what needs to be done to build diversity figures in the UK film industry while the biggest challenges facing the industry will be explored during Question Time at the end of the day, led by Entertainment One Films UK managing director Alex Hamilton and Origin Pictures producer David Thompson.
For the full programme and to book your ticket, go to www.screenfilmsummit.com