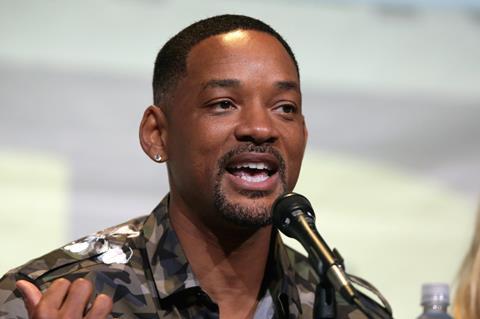 Apple has prevailed in a bidding war for worldwide rights to the runaway slave thriller Emancipation that pairs Will Smith with director Antoine Fuqua and reportedly marks one of the highest single-picture acquisitions the industry has ever seen.
According to sources Apple paid around $120m, illustrating how the right package will still sell for a premium regardless of what condition the economy is in or what broader forces are at play.
It also demonstrates the unmatched buying power of a relatively new player in the film business that continues to ramp up its activities.
Close ties between heads of worldwide Video Zack Van Amburg and Jamie Erlicht and Smith and Jada Pinkett Smith helped close the deal.
The former presidents of Sony Pictures Television produced Hawthorne starring Pinkett Smith as well as The Queen Latifah Show. Since moving to Apple, they worked with Pinkett Smith on Hala, on which she served as executive producer.
Emancipation is timely given the renewed focus on race relations and waves of protests around the world stemming from police killings and the violent deaths of black people in the US.
Apple has taken a strong public stance on racism, recently pledging $100m towards a racial equality and justice initiative.
The Emancipation deal will further bolster Apple's credibility in the film space after it recently secured rights to Martin Scorsese's upcoming Killers Of The Flower Moon to star Leonardo DiCaprio and Robert De Niro, and picked up the Tom Hanks wartime drama Greyhound from Sony, and Julianne Moore con artist project Sharper with A24.
The slate includes Sofia Coppola's On the Rocks, Josephine Decker's upcoming The Sky Is Everywhere, drama Swan Song starring Mahershala Ali, and Sundance prize-winner Boys State, again with A24.
After CAA began shopping the package before the Cannes virtual market, a number of studios started to circle. Warner Bros had been in the running until late last week and the studio has the upcoming tentpole King Richard starring Smith as Richard Williams, father and coach to tennis sensations Serena and Venus Williams.
MGM was one of several other companies that had been in the mix. It is understood to have made a competitive bid, and under new film head Michael De Luca the studio has been on an aggressive buying spree, snapping up Ron Howard's Thai cave rescue drama Thirteen Lives and Ridley Scott's Gucci project with Lady Gaga.
Emancipation centres on a slave who broke from captivity and fled through the Louisiana swamps to the North where he joined the Union Army. Joey McFarland began researching and developing the story and characters in 2018 and engaged William N Collage to write the script and took it to Fuqua and Smith.
Apple Studios will produce alongside Smith through Westbrook Studios, Fuqua and his Fuqua Films, Todd Black and Escape Artists and McFarland.
FilmNation and CAA Media Finance introduced the project at the US-led A Demain virtual Cannes market last week and hosted an online presentation.