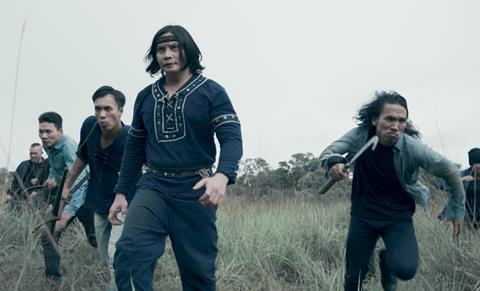 Arclight Films has picked up international rights, excluding Vietnam, to martial arts thriller Foggy Mountain, directed by Vietnamese filmmaker Phan Anh in co-operation with scriptwriter Ken Dinh.
The film's ensemble cast includes Peter Pham, Vietnamese boxing champion Truong Dinh Hoang and Thai martial arts star Simon Kook (Ip Man 3). Arclight Films will be screening and introducing the film to buyers at Filmart Online, which kicks off today (August 26).
Pham plays a fighter who sets out on a quest for revenge after running up against a ruthless syndicate boss in a recent match. His journey takes him deep into the jungles of Foggy Mountain, where he is reunited with a former student, now running an orphanage, who becomes the target of the syndicate boss and his gang.
Produced by Phan Brothers Film and Galaxy Studios, with Tran Ho Truc Duy as lead producer, the film was shot in the scenic Central Highlands of Vietnam. Fight scenes were choreographed by Truong Dinh Hoang, winner of the WBA West Asia and Asia East belts in 2020, and Simon Kook, a stuntman who has also performed in films such as The Bodyguard, Scared and Mercury Man.
The film had a successful theatrical outing in Vietnam, which has not been badly affected by Covid-19, last month, with Galaxy handling distribution.
Arclight Films chairman Gary Hamilton described the film as "visually mesmerising, and the action-packed scenes have incredible realism thanks to the expertise of some of the biggest names in martial arts. Foggy Mountain will captivate audiences both interested in high-quality action films as well those looking for an inspirational and uplifting human story."
Arclight is also selling live-action mecha sci-fi Heavens: The Boy And His Robot, directed by Singapore's Rich Ho, at Filmart Online.