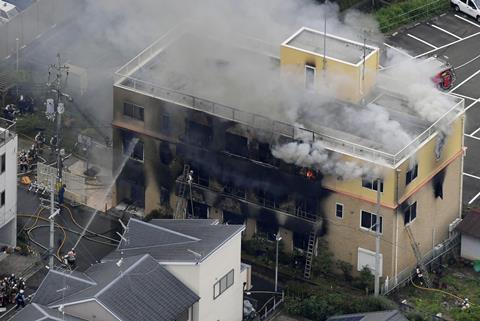 JULY 18 UPDATE: Officials in Kyoto, Japan, said on Thursday (18) that 33 people died and a further 36 were injured following an arson attack at Kyoto Animation headquarters in Japan's worst mass killing in nearly two decades.

ORIGINAL JULY 17 REPORT: A suspected arson attack at an animation production studio in Kyoto, Japan has killed at least 26 people and injured dozens more.
According to reports from Associated Press and the BBC, a 41-year-old man broke into the Kyoto Animation Co. studio on Thursday morning, sprayed petrol and ignited it.
Japanese public broadcaster NHK is reporting that some people remain unaccounted for; the suspect has been detained and taken to hospital with injuries, with latest reports saying he was not an employee of the studio.
AP has quoted survivors of the attack, some of whom were splashed by the liquid thrown by the attacker, saying they saw the man screaming "You die!".
Japan's Prime Minister Shinzo Abe has described the incident as "too appalling for words" and offered condolences to those involved.
Most of those affected were workers at the studio.
Kyoto Animation, known as KyoAni, was founded in 1981 as an animation and comic book production studio. Its successes include series Lucky Star in 2007 and K-On! and Haruhi Suzumiya in 2009.
It has also worked on feature films including 2016's A Silent Voice and last year's Love, Chunibyo & Other Delusions! Take On Me.