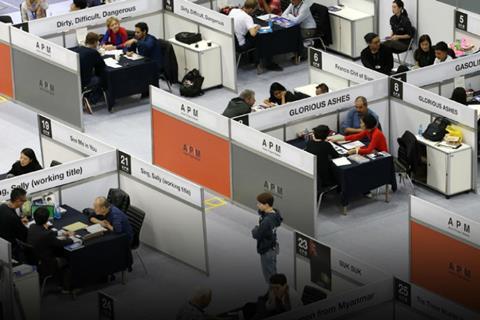 The Asian Project Market, Asia's biggest investment and co-production market, has announced its 29 projects for 2018.
The selected titles were chosen from 401 submissions from 69 countries, an increase of 30% on 2017.
Amongst the titles are Gong Wen's Without End, Without Doubt, produced by China's Jia Zhangke, and Japanese director Yukisado Isao's Soundtrack Of An Eternal Day.
Seven of the 29 projects are produced or co-produced in Korea. These include Yanagawa from Zhang Lu, whose film A Quiet Dream opened Busan Film Festival in 2016; and In The Water from Shin Dongseok, whose Last Child played in Berlin this year.
The list also includes the market's first Czech Republic co-production, Tomáš Polenský's The Pack, with other co-productions involving Thailand, Nepal and Iraq.
The projects will be presented across three days from October 7-9 at the Asian Film Market (October 6-9).
Asian Project Market 2018 titles
ABOKKE - dir. Suzuki Yohei (Jap)
Anatomy Of Time – Jakrawal Nilthamrong (Thai, Fr, Neth)
Blossom – Liu Yanwenjun (China)
Bone Trumpet – Fidel Devkota (Nepal, Fr)
The Egg – Shawkat Amin Korki (Iraq, Ger, Jap)
Fan Girl – Antoinette Jadaone (Phi)
The Final Print – Jang Woo-jin (S Korea)
The Idiots – Cheung King Wai (HK)
In The Water – Shin Dongseok (S Korea)
I See Waves – Abdullah Mohammad Saad (Bang, Sing)
I, The Song – Dechen Roder (Bhutan)
Japanese. Ahiko – Yeldar Kaparov (Kaz)
Man Of The Sea – Jéro Yun (S Korea)
The Martyrdom – Kim Uiseok (S Korea)
My Small Land (working title) – Emma Kawawada (Jap)
Nirvana Inn – Vijay Jayapal (Ind)
The Pack - Tomáš Polenský (Czech, Latvia)
The Palace – Anil Baral (Nepal)
A Plum Of Smoke – Wang Xuebo (China, Tai)
The Question Of Innocence – Vimkuthi Jayasundara (Sri)
Snow Moon – Lim Dae-hyung (S Korea, Jap)
Soundtrack Of An Eternal Day (working title) – Yukisada Isao (Jap, China)
Stranger Eyes – Yeo Siew Hua (Sing)
Where We Belong – Kongdej Jaturanrasmee (Thai)
Without End, Without Doubt – Gong Wen (China)
Yanagawa – Zhang Lu (S Korea)
Yellow Dust – Park Hong-min (S Korea)
Yesterday Will Be Perfect – Julia Chu, Feron Lau (HK, Can)