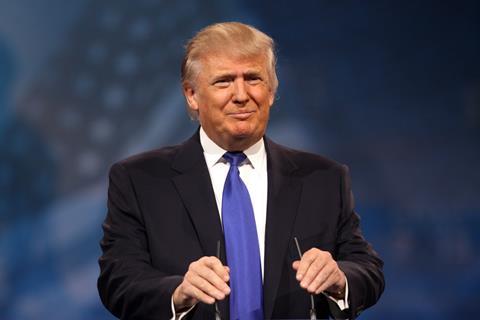 SEPTEMBER 6 UPDATE: US Spanish-language TV networks Telemundo and Univision alongside Disney chief Bob Iger have blasted president Donald Trump for scrapping the Deferred Action for Childhood Arrivals (DACA) initiative known as the 'Dreamers' programme.
Attorney-general Jeff Sessions announced on Tuesday that the immigration initiative introduced by Barack Obama to prevent the deportation of young, mostly Latin American, undocumented immigrants, will end. Congress has six months to enact a replacement immigration plan. Obama said the move by the White House was "wrong".
NBCUniversal-owned Telemundo said in a statement: "Telemundo stands with the 800,000 Dreamers who are integral to the economy, culture and spirit of our nation. We are disheartened by the decision to end the Deferred Action for Childhood Arrivals (DACA) program.
"In addition to the human impact of this decision, repealing DACA will result in the loss of thousands of jobs in the United States and billions of dollars in economic growth over the next decade. We urge Congress to act swiftly to preserve the rights of these valuable members of our community. All of our elected representatives should be held accountable toward this end."
Univision CEO Randy Falco issued a statement in which he said he was "disappointed" by the move.
The Walt Disney Company chairman and CEO Bob Iger said in a statement: "The Dreamers impacted by this cruel and misguided decision make significant contributions to our economy and our country. I urge Congress to take immediate bipartisan action to pass legislation that will protect these innocent people."
Earlier in the summer Iger stepped down from Trump's business advisory council when the president pulled the US out of the Paris climate accord.
Michael Schwimmer, CEO of youth entertainment company Fuse Media, said: "Since the original launch of SíTV in 2004, Fuse Media has been dedicated to serving the English-speaking Latino audience. Both on and off screen, we have come to know the Dreamers on a personal level, well beyond the current political conversation. Vital to our country, Dreamers are hard-working people with families who bring a diverse background that makes our country richer in every way.
"The Deferred Action for Childhood Arrivals (DACA) program promised these young people the opportunity to work, study, pay taxes and give back to their communities - all without the threat of deportation. This week, that promise was broken. Fuse stands behind the Dreamers and urges Congress to pass bipartisan legislation that represents the same American values exhibited by the Dreamers every day in their contributions to our country."