Universal's comedy set to knock The Amazing Spider-Man 2 from the top spot.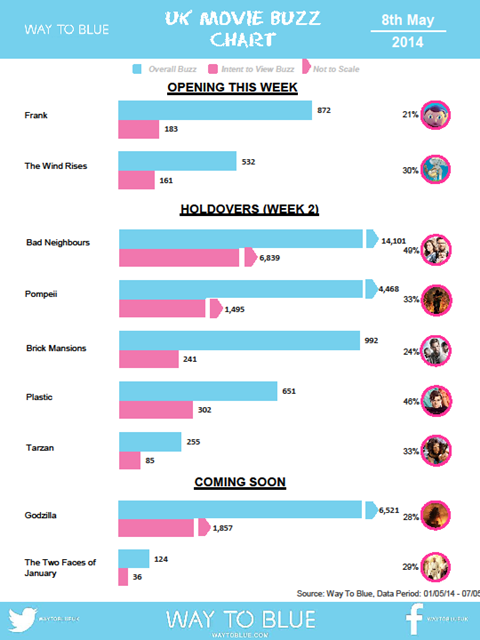 Having banked $6m (£3.53m) over the Bank Holiday weekend, Bad Neighbours is set to top the UK box office this weekend, according to Way To Blue's UK buzz chart.
Universal's comedy has generated over 14,000 overall buzz with a healthy 49% intent-to-view, arguably helped by it currently being in UK cinemas.
Of the week's other new releases, Curzon Film World's Frank led the way with overall buzz, but StudioCanal's The Wind Rises posted a stronger intent-to-view at 30%.
eOne's Pompeii could be set for the best holdover of last week's new entries with almost 4,500 overall buzz and a sturdy 33% intent-to-view.
Set to stomp into cinemas on May 15, Warner Bros' Godzilla has already generated over 6,500 overall buzz with a 28% intent-to-view.
For an explanation of the Way to Blue chart and its methodology, which tracks 'overall buzz' and important 'intent to view' buzz, click here.
To view the chart in pdf format click here.