EXCLUSIVE: Close to 500 film workers sign up for BFI Network x BAFTA Crew.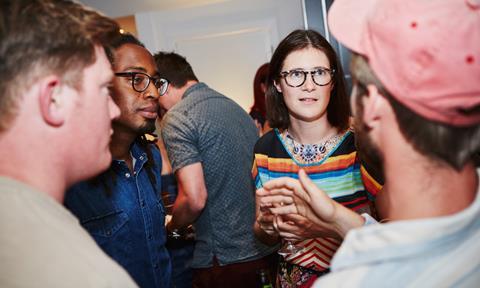 Scroll down for full list
Bafta and the BFI are teaming on a relaunch of Bafta Crew, the networking and career development programme for UK-based film and TV workers.
Under the new moniker BFI Network x BAFTA Crew, the initiative will expand to include writers, directors and producers who are on the way to making their first feature films.
They will join below-the-line film workers who have at least two years of broadcast or feature credits. The selection of crew is split roughly fifty-fifty between film and television personnel.
The format of the programme will remain largely the same as previous years, with participants invited to take part in masterclasses and networking events. It will be supported by Bafta and the BFI.
So far, 476 participants have been confirmed. New members of the initiative include Game Of Thrones first assistant editor Meredith Leece, Fantastic Beasts And Where To Find Them production supervisor Matthew Perrin, Black Mirror second AD Gemma Wright, director of Tribeca short Little Bird Georgia Oakley, and the director and producer of Sundance documentary short White Riot, Rubika Shah and Ed Gibbs.
The first event announced for this year will see Bafta-winning Under The Shadow writer-director Babak Anvari take part in an online masterclass on April 26.
2017-18 BFI Network x BAFTA Crew participants in full:
New participants for 2017-18 indicated with an asterix
Aashish Gadhvi, Environmental Assistant
Abigail Dankwa, Director*
Adam Smith, Producer*
Adam Woodhall, Producer*
Adel Sagidulina, Production Management
Adina Istrate, Director*
Adriene Whitwell, Location Scout and Assistant Location Manager
Afia Nkrumah, Director
Aisha Graham, Production Management*
Akua Obeng-Frimpong, Producer*
Al Rogers, Editing
Alan Tony Frances, Sound (Production)
Albert Testani, Production Management
Alec Rossiter, Writer*
Aleksandar Gvozdenovic Bajac, Camera
Alex Browning, Director*
Alex Metcalfe, Camera
Alex Nevill, Camera
Alex Veitch, Camera
Alexander Bodin Saphir, Director*
Alexander Parsons, Composer*
Alexandra Harwood, Composer
Alexandra Blue, Producer
Ali Mansuri, Producer*
Alice Cousins, Art Department*
Alice Grant, Producer*
Alice Seabright, Director*
Alina Tunde Papp, Art Department*
Alison Piper, Director
Alysia Wildman, Visual Effects*
Amrou Al-Kadhi, Writer*
Amy Mackelden, Writer*
Andrea Possee, Sound (Post Production)
Andrea Cuadrado, Editing
Andrej Bako, Sound (Production)*
Andrew Alderslade, Camera*
Andrew Harris, Art Department
Andrew Lancaster, Director*
Andrew Oldbury, Producer*
Andrew Cryan, Writer*
Andrew Tulloch, Director
Andrew Simon McAllister, Composer
Andy Bottomley, Art Department*
Andy Morgan, Producer
Angus Young, Camera
Ani Laurie, Director*
Ann Evelin Lawford, Camera
Anna Jancsó, Producer*
Anna Thomas, Art Department
Anna von Dziembowska, Producer*
Anna-Marie Ramm, Camera
Anne Sommerfield, Director*
Annetta Laufer, Director*
Annie Rowe CDG, Casting Director
Antony Tsoukatos, Sound (Post Production)
Anushka Naanayakkara, Director*
April Kelley, Producer*
Aris Anastassopoulos, Sound (Production)
Arturo M Antolin, Editing*
Asad Qureshi, Director
Ashley Meneely, Camera
Aurora Fearnley, Director*
Avril Evans, Director*
Avril Furness, Director*
Barbara Elum-Baldres, Costume
Ben Garfield, Director*
Ben Duncan, Visual Effects*
Benedict Turnbull, Producer*
Benjamin Bee, Director*
Benjamin Noble, Writer*
Benjamin Symons, Composer*
Benjamin Woodgates, Sound (Post Production)*
Bertil Mulvad, Camera
Beth Aynsley, Development
Bojan Brbora, Camera
Bradley Morgan Johnson, Art Department
Brashna Agha, Assistant Director
Brian J. Falconer, Producer*
Candida Scott Knight, Director*
Carlene Garvey, Production Management
Carolina Giammetta, Director*
Caroline Bridges, Camera
Carys Lewis, Director*
Catherine Slater, Producer and Personal Assistant*
Cayli Mandel-McCann, Costume*
Cecily Barber, Producer*
Charles Caselton, Editing*
Charlie Morton, Editing
Charlotte Meakin, Art Department*
Charlotte Partt, Sound (Post Production)
Cherish Oteka, Director*
Cheryl Potter, Editing*
Chiara Forestieri, Writer*
Chiara Ventura, Producer*
Chloe Fairweather, Director*
Chloe Wicks, Director*
Chor Man, Production Management*
Chris Crookall, Editing*
Chris Jones, Camera
Chris Lane, Producer*
Chris Hunter, Editing*
Chris Roach, Camera*
Christian Graham, Writer*
Christopher Barnett, Composer
Christopher Hallum, Camera*
Christopher Sharman, Camera
Christopher Manning, Director*
Claire Tailyour, Director
Claire Elizabeth Alberie, Writer*
Colin Arnold, Director
Colin Brown, Colourist*
Colin Day, Producer*
Cyrus Trafford, Director*
Damien Gray, Camera*
Dani Abram, Animation
Daniel Cleland, Producer*
Daniel Vincze, Art Department
Daniel-Konrad Cooper, Producer*
Darko Mocilnikar, Sound (Production)
Dave Sohanpal, Sound (Production)
David Braithwaite, Producer*
David Chaudoir, Director
David Lee, Camera
Dieudonnee Burrows, Producer*
Dillon Beagley, Director*
Dionisia Cirasola, Art Department
Dionne Edwards, Director*
Dionne Walker, Director*
Domenico Palomba, Camera
Dominic Tighe, Producer*
Dominic Sikking, Art Department
Dominique Unsworth, Producer*
Dominique Lecchi, Director*
Don McVey, Camera
Ed Cripps, Writer*
Ed Gibbs, Producer*
Edward Rastelli-Lewis, Production Management
Edward Price, Visual Effects
Eleanor Cotton, Editing
Elena Ruscombe-King, Writer*
Ellen Hussain, Producer*
Ellen Waddell, Director*
Ellie Bright, Editing*
Emily Dring, Producer*
Emily Morgan, Producer*
Emma Costello, Production Management*
Emma Butt, Sound (Post Production)*
Emma Hanson, Producer
Emma Whittaker, Research*
Eno Mfon, Writer*
Erick Kwashie, Production Management
Erin Large, Assistant Director
Esther Hegarty, Assistant to Producer
Eva Weber, Director*
Evelyn Franks, Editing*
Fabiola Bastianelli, Hair and Make Up
Fawzia Mahmood, Producer*
Felix Schmilinsky, Camera
Fiona Brands, Editing*
Florah Uddin, Assistant Director
Florence Kennard, Director
Frances Darvell White, Hair and Make Up
Frances Poletti, Writer*
Francesca Castelbuono, Director*
Freya Berkhout, Composer*
Gail Jenkinson, Camera
Galina Chakarova, Editing*
Garath Whyte, Camera*
Gemma Bourne, Editing*
Gemma Bates, Costume*
Gemma Wright, Assistant Director
Georgia Benjamin, Visual Effects*
Georgia Goggin, Producer*
Georgia Parris, Director*
Georgia Oakley, Director*
Georgina French, Producer*
Gilbert Townshend, Camera*
Gordon Napier, Director*
Grant Keir, Producer*
Guillaume Fradin, Director*
Hannah Bush Bailey, Producer*
Hannah Cole, Producer*
Hannah Renton, Director*
Harry Lighton, Director*
Heather Fenoughty, Sound (Post Production)*
Heidi Carmichael, Writer*
Helen Carr, Visual Effects
Helen Cogman, Production Management*
Helen Miles, Sound (Post Production)
Helen Simmons, Producer*
Helen Swanwick-Thorpe, Production Management
Helena Beeson, Editing*
Henriette Spiering, Producer*
Hollie Abbott, Development*
Holly Dean, Production Management*
Ian Forbes, Camera*
Ian Heard, Location Scout
Ian Ravenscroft, Writer*
Ian Watts, Camera*
Ieva Sabaliauskaite, Producer
Ilaria Fulvio, Camera
Ina Remme, Producer*
Iona Smith Oliver, Costume
Irune Gurtubai, Producer*
Isabelle Sieb, Director*
Jac Clinch, Director*
Jack Pirie, Director*
Jack Benjamin Gill, Director*
Jacopo Miceli, Production Management
Jake Cullen, Producer*
Jake Graf, Director*
Jake Walker, Composer*
Jamey-Leigh Weber, Hair and Make Up
Jan Genesis, Director*
Jason Bradbury, Director*
Jeffrey Michael, Costume
Jemma Riley-Tolch, Sound (Post Production)
Jennifer Sheridan, Director*
Jessica Mitchell, Camera
Jessica Ruston, Writer*
Jessie Frost, Casting Director*
Jimmy Dean, Director*
Jo Lewis, Director*
Jo Sweeting, Hair and Make Up
Joe Kotroczo, Production Management
Joe Karimi-Nik, Production Management*
John Weeks, Editing*
Jordan Kotras, Production Management*
Joseph Dickinson, Visual Effects*
Joshua Bosley, Camera
Joss Albert, Composer
Joy Gharoro-Akpojotor, Producer*
Jules Roman, Hair and Make Up*
Julie Bills, Camera
Julie Mayhew, Writer*
Justine Barker, Composer
Karel Dolak, Editing*
Karen Kelly, Director*
Karmjit Kalla, Costume
Kate Cheeseman, Director*
Katherine Pearl, Production Management
Kathleen Davidson, Writer*
Katie Hindley, Producer*
Katie Hudson, Locations*
Katie Olds, Camera
Katie Player, Production Management
Kat Wood, Director*
Keir Burrows, Director*
Keith Weir, Art Department*
Kevin Cousineau, Sound (Post Production)*
Kieron Jansch, Camera*
Kit Jennings, Editing*
Kitty Bennett, Costume*
Kizzy Dhaliwal, Production Management*
Konstantina Markopoulou, Technical Director
Kostas Iordanou, Producer*
KT Roberts, Assistant Director
Lara Singer, Producer*
Laura Scrivano, Director*
Laura Radford, Camera
Lauren James, Production Management
Lauren Parker, Producer*
Lawrie Doran, Writer*
Leighanne Regan, Hair and Make Up*
Lewis Wardrop, Producer*
Li Gong, Director*
Liam Hobbs, Producer*
Lili Lea Abraham, Art Department
Lilly Blazewicz, Sound (Post Production)
Lindsay McGee, Producer*
Lisa Forrest, Editing
Lisa Gifford, Writer*
Lizzie Gillett, Producer*
Louis Chan, Director*
Louis Dodd, Composer*
Louise Marie Cooke, Director*
Lucy Brydon, Director*
Lucy Gaymer, Production Management*
Luke Jeffery, Director*
Lynne Davison, Director*
Macarena Montero, Assistant Director*
Madalena Hudson, Producer*
Maddie Quarm, Sound (Production)
Mal Young, Producer*
Malinda Kaur, Director*
Manuela Lupini, Editing*
Marc Hankins, Unit Stills Photographer*
Margaret McGoldrick, Producer*
Mari Yamamura, Camera
Maria Caruana Galizia, Producer*
Maria Antal, Music Department
Maria Tanjala, Production Management
Marianna Dean, Director*
Marie-Anne Fischer, Music Post-Production
Mark Boutros, Writer*
Martin Stalker, Director*
Martina Silcock, Production Management
Mary Mckeogh, Editing*
Mathieu Karsenti, Sound (Post Production)
Matt Hilton, Director*
Matt Redd, Writer*
Matthew Hopper, Director*
Matthew Lawes, Director*
Matthew Whiteside, Composer
Matthew Perrin, Visual Effects
Maxwell Alexander, Visual Effects*
May Jennifer Davies, Art Department*
Meera Thavasothy, Producer*
Mei Leng Yew, Editing
Meredith Leece, Editing*
Mhairi MacRitchie, Sound (Post Production)
Michael Achtman, Writer*
Michael Bates, Sound (Post Production)*
Michael Wilson, Producer*
Miguel E. Rebagliato, Editing*
Mike Forshaw, Director*
Mike MacLennan, Sound (Post Production)*
Milos Moore, Camera*
Moin Hussain, Director*
Morayo Akande, Writer*
Moyo Akande, Producer*
Murat Akser, Director*
Nadine Richardson, Sound (Production)
Nainita Desai, Composer*
Naomi Marvelly, Script Supervisor*
Naomi Smallwood, Editing*
Nasheed Qamar Faruqi, Director*
Natalie Teming-Amoako, Producer*
Natasha Torin, Producer
Neil Bradley, Camera
Nicholas Dalby, Visual Effects
Nick Norman-Butler, Director*
Nicola Daley, Camera
Nicola Reade, Director*
Nigel Buck, Editing
Nigel Bunyan, Editing
Nigel Mattison, Production Management
Nikki McChristie, Editing
Nimer Rashed, Director*
Nina Danon, Composer*
Noel Probyn, Camera
Noni Couell, Producer
Noor Lawson, Producer*
Nosa Eke, Director*
Nour Wazzi, Director*
Oliver Cullen, Writer*
Oliver Kember, Director*
Oliver Mason, Director*
Oscar Oldershaw, Director*
Owen Shirley, Sound (Post Production)
Paul Allen, Writer*
Paul Frankl, Director*
Paul Keyworth, Sound (Production)
Pawel Slawek, Editing*
Peter Stewart, Editing
Peter Lee Scott, Director*
Philip Kelly, Director*
Philip Stevens, Director*
Philippe Audi-Dor, Director*
Phoebe Newman, Costume*
Polly Rose, Editing
Rachael Gordon, Visual Effects
Rachael Hallum, Hair and Make Up
Rachel Lennon, Hair and Make Up*
Rachel Durance, Editing
Rachel Erskine, Editing
Rachel Heywood, Producer*
Rebecca Lloyd, Editing
Rachel McAdam, Writer*
Rebecca Tredget, Costume
Rebecca Brand, Director*
Rebecca Mitchell, Costume*
Regan Hall, Director*
Rene Pannevis, Director*
Renzo Garcia, Sound (Production)
Reuben Armstrong, Director*
Richard Addlesee, Director*
Richard Smither, Editing
Richard Turley, Director*
Rick Mcleod, Camera
Ricky Milling, Editing
Riyadh Haque, Director*
Robbie Gibbon, Editing
Robin Green, Sound (Post Production)
Robin Schlochtermeier, Sound (Post Production)
Robyn Barresi, Assistant Director
Roger Evans, Production Management*
Roque Cameselle, Director*
Ros Gilman, Composer*
Rosie Westhoff, Director
Rubika Shah, Director*
Ruka Johnson, Costume*
Rupert Peddle, Camera*
Ruth Grimberg, Director*
Ryan Hooper, Director*
Saffron Powell, Hair and Make Up
Sam Baron, Director*
Sam Johnson, Director*
Sam Jones, Composer & Orchestrator*
Sam Morris, Camera
Sam Thompson, Composer*
Sam Thornton, Assistant Director
Sam Tipper-Hale, Producer*
Samantha Price, Producer*
Samantha Rhodes, Editing*
Samuel Dore, Unit Stills Photographer
Samuel Pegg, Composer*
Samuell Benta, Producer*
Sara Huxley, Producer*
Sarah Agha, Production Management*
Sarah Courtauld, Writer*
Sarah McConville, Production Management*
Savannah James-Bayly, Producer*
Savvas Stavrou, Director*
Scott Edwards, Editing
Scout Stuart, Writer*
Selena Cunningham, Producer*
Shibbir Ahmed, Camera
Shwan Nosratpour, Director*
Sian Fever, Editing
Simona Susnea, Camera*
Simon Dymond, Director*
Simon Quinn, Producer*
Simon Starling, Editing
Simon Lord, Writer*
Simon Rowling, Camera
Simon Underwood, Writer*
Simon Whitcombe, Editing*
Simone Macdonald, Hair and Make Up
Siobhán Daly, Producer
Siona Davis, Producer
Smitha Kalkuzhi, Production Management
Sophie Alexander, Production Management*
Sophie King, Director*
Sophie Halton, Production Management
Sophie Peacock, Production Management*
Sorcha Bacon, Producer*
Stacey Cain, Colourist*
Stefan Haselwimmer, Writer*
Stephen Brand, Camera*
Stephen Casey, Writer*
Steve Simmons, Art Department
Steve Thomas, Sound (Production)
Steven Cameron Ferguson, Camera*
Stuart Learmonth, Assistant Director
Sucharita Ghosh Stephenson, Producer*
Sven Werner, Director*
Svetlana Miko, Camera*
Tabitha Quitman, Art Department*
Tania Freimuth, Camera
Tessa Morgan, Director*
Thabo Mhlatshwa, Writer*
Theo Cowen, Editing*
Theodore Clark, Camera*
Thomas Blazukas, Sound (Post Production)*
Thomas Wade, Camera
Tim Morrish, Composer*
Timothy Marrinan, Director*
Toa Stappard, Director*
Toby Knowles, Sound (Post Production)*
Tom Betts, Producer*
Tom Kimberley, Producer*
Tom Wood, Producer*
Tommy Boulding, Editing*
Tonia Vernava, Hair and Make Up*
Trace Taylor, Editing
Vanessa Caswill, Director*
Vanessa Preuss, Costume
Vanessa Ford, Producer*
Vera Simmonds, Editing*
Vicki Kisner, Director*
Vijay Varu, Director*
Virginia Heath, Director*
Will Adams, Director*
Will Webb, Director*
William McGregor, Director*
Yaw Basoah, Producer*
Yiannis Manolopoulos, Camera
Yixi Sun, Director*
Zoe Davis, Director