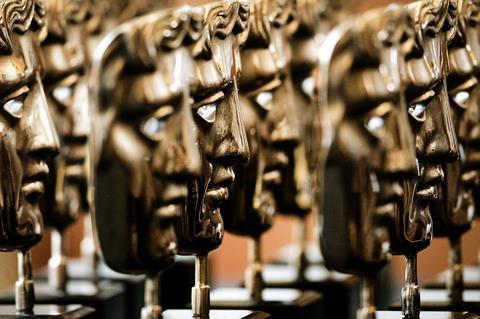 The British Academy of Film and Television Arts (Bafta) has revealed the changes to its eligibility rules and voting process for the 2022 film awards.
The ceremony will take place at the Royal Albert Hall on March 13, 2022.
Special eligibility measures that were put in place for the 2021 film awards due to the pandemic have been extended for films released from January 1, 2021 to June 30. Films between these dates need to meet the lower qualifying threshold of at least one theatrical screening per day for seven days (excluding festival screenings); or an approved UK VoD platform minimum 30-day release, if the original intention of a theatrical release was not possible due to the pandemic.
Films released from July 1, 2021 to March 11, 2022 must have been theatrically exhibited publicly to a paying audience on at least 10 commercial UK screens, for at least seven days in aggregate (excluding festival screenings).
The Documentary and Film not in the English Language categories will continue to have a lower qualifying threshold, of one commercial public UK screening of no fewer than seven days in aggregate (excluding festival screenings), with a longer eligibility period, until March 31, 2022. "We don't want to force everything to be released at once," said Emma Baehr, executive director of awards and content at Bafta.
For the first time, titles in the Outstanding Debut by a British writer, director or producer category may qualify by screening at a festival or festivals included on a new debut qualifying festival list. The 22-strong list is comprised of eight UK events (BFI London Film Festival, Glasgow, Edinburgh, Belfast, Sheffield, Leeds, Open City and Oska Bright) and 16 international festivals, made up of Cannes (including the Directors' Fortnight and Critics' Week sidebars), Berlin, Sundance, Venice, Toronto, Busan, Locarno, Rotterdam, San Sebastian, IDFA, SXSW, Hot Docs, Telluride and Tribeca.
They will also only require one commercial public UK screening of no fewer than seven days in aggregate. Debut titles releasing internationally and not in the UK may also be eligible. The changes are to ensure debut British filmmakers don't miss out because their first film did not receive a UK theatrical release.
If filmmakers feel they would have benefitted from these rules in the last three years (since September 2018), they can apply to be considered for this year's awards; furthermore, if their first film was not eligible at the time due to not receiving a theatrical release, they can apply for the awards with a second film that has been or will be released theatrically, at the discretion of the Film Committee. Previously second films were eligible in exceptional circumstances as exemplified by Ben Sharrock's Limbo in 2021 whose debut feature Pikadero was not theatrically distributed in the UK.
"Often films that are seen at festivals have great success and don't get picked up for distribution or they may have premiered outside of the UK as a territory but still be a British debut film," said Anna Higgs, the new chair of the Bafta Film Committee. "It reflects the desire we have to continue to support emerging British talent, and throw real spotlight at the beginning of their careers on the excellence of that talent."
In a further change, documentary features commissioned by a broadcaster or streaming platform now need to appeal directly to the Film Committee to be considered for entry to the film awards (it does not apply to acquisitions). The change comes following criticism that the category had become too populist.
"We did a deep consultation with and received a lot of feedback from the industry and particularly documentary specialists last year on the awards," said Higgs. "Documentary is such a specialised area, and we have a high level of entrants in the documentary category. So we've adapted the process to still use the opt-in chapter, but to follow somewhat of the outstanding British format, so that we have a nominating jury that sits in the middle of that process.
"The ability for the biggest, broadest debate and the opportunity for our members to see more films, more widely, is what is driving those changes. We are aligning the different categories with each other, and building on the success of that inclusion."
Voting changes
As one of several alterations to the voting process, the top two performances in each of the four acting categories in the first round of voting by the acting chapter will be automatically nominated. Last year Carey Mulligan (for Promising Young Woman) and Olivia Colman (for The Father) were notable omissions from the best actress and best supporting actress nominee lists respectively.
In the best director category, the number of automatic longlist spots from directing chapter votes has been reduced by one for both men and women. This means the top seven male and seven female directors will be automatically longlisted; with the remaining three male and three female directors chosen by the longlisting jury.
Films longlisted for best sound are invited to submit an eight-minute clip, unedited from the film, to be shown to the Sound chapter members ahead of the Round Two nominations voting deadline. Screenings will be held at Bafta's 195 Piccadilly headquarters in London.
These changes are "a further refining of the rules to ensure that the work of all entrants is seen and considered," explained Higgs, with the committee also introducing headshots as part of an entry, "so that people who aren't necessarily household names can be tied visually to the names that somebody might have seen fleeting past in the credits."
Following the extensive redevelopment of 195 Piccadilly, the Committee said that two new screening rooms should be open at the venue from December.
Also new for this year, subtitles for hard-of-hearing viewers will be available on all films on the Bafta View portal. This follows a prior announcement that DVDs will no longer be permitted for screening.
Bafta Film Awards 2022 calendar
December 10 – round one voting opens
January 3 – round one voting closes
January 12 – longlists announced
January 14 – round two voting opens
January 27 – round two voting closes
February 3 – nominations announced
February 9 – round three (final) voting opens
March 8 – round three (final) voting closes
March 13 – Bafta Film Awards ceremony