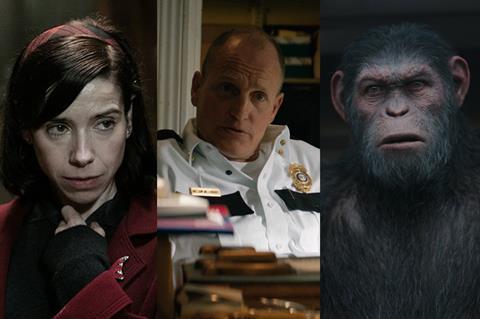 Twentieth Century Fox tops this year's list of distributors nominated for Bafta film awards - the third time it has done so in four years - with a hefty haul of 22.
The company's nominations are spread across three of its titles: The Shape Of Water with 12 including best film, Three Billboards Outside Ebbing, Missouri with nine including best film, and a solitary nod for War For The Planet Of The Apes in the special visual effects category.
It's a significant uptick for the outfit after it pulled in only two nominations last year, one each for Hidden Figures and Julieta. The total of 22 isn't quite a company record - in 2016, Fox scored 24 nods for The Revenant, Bridge Of Spies, He Named Me Malala, and The Martian.
Universal is in second place with 19 nominations, including nine for Darkest Hour, which attracted nods for best film, outstanding British film, and leading actor. Its remaining noms were spread across Get Out, Lady Bird, Phantom Thread and Victoria & Abdul.
Third was Sony, which scored 15 noms including a strong haul of eight for Blade Runner 2049 including best director for Denis Villeneuve, four for Call Me By Your Name including best film, two for Baby Driver, and a single nod for Christopher Plummer's supporting turn in All The Money In The World, despite the actor replacing Kevin Spacey in the film only five weeks before its scheduled release.
Warner Bros returned eight nominations, all for Christopher Nolan's war epic Dunkirk.
In the indie sphere, Entertainment One followed up its record haul of 20 nominations last year with eight this year: five for I, Tonya, two for The Death Of Stalin and one for Molly's Game.
Altitude put in a strong showing, attracting a company record of six nominations across five of its titles: two for Lady Macbeth and single nods for I Am Not Your Negro, Loveless, The Florida Project, and Loving Vincent.
Despite being the distributor to top the UK's box office this year, Disney only secured five nominations, two apiece for Beauty And The Beast and Star Wars: The Last Jedi, and one for animated feature Coco.
After posting a company record 18 nominations last year, Lionsgate secured only four, including three for Film Stars Don't Die In Liverpool and a single nod for Wonder.
Netflix won the battle of the online giants, taking three nominations – one for Angelina Jolie's First They Killed My Father in the foreign language category, one for Icarus in best documentary, and fellow doc Kingdom Of Us in the outstanding British debut category. Amazon's awards contenders were shut out.
Curzon scored three noms, one apiece for The Handmaiden, I Am Not A Witch, and The Salesman.
Documentary specialists Dogwoof got two, predictably both in the documentary categories for City Of Ghosts and Jane.
Six companies secured a solitary nod: Arrow Films for The Ghoul; Paramount for An Inconvenient Sequel, Picturehouse Entertainment for God's Own Country, Thunderbird Releasing for My Life As A Courgette, Trafalgar Releasing for Elle, and Vertigo Releasing for Jawbone.