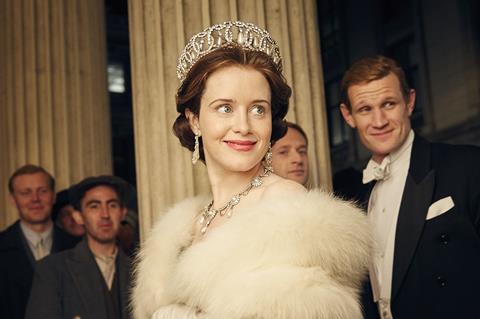 The BBC has warned that the future of homegrown content is under threat in the face of powerful SVoD players which are failing to invest in British content (reports Broadcast).
A report published today by the corporation has found that the spend on British programming could fall in real terms by £500m in the next 10 years due to a challenging advertising market, reduced content budgets and investment in global programming rather than UK-specific shows.
In a speech in Liverpool today, director general Tony Hall said that Netflix and Amazon's growing revenues have not translated into increased investment in British content, with Left Bank Pictures' The Crown one of a "handful" of major programmes made about the UK.
Hall predicted that the SVoD services will focus increasingly "on a narrow range of very expensive, very high-end content" with international appeal for global audiences, rather than UK-specific shows.
"Even the most generous calculations suggest they are barely likely to make up half of the £500 million British content gap over the decade ahead," he said. "And a more realistic forecast points to substantially less."
The report, which was compiled by consultants Mediatique, also noted that the industry cannot rely on international co-productions to deliver UK-specific programming in the future.
Co-pro warning
It echoed comments made by Broadchurch producer Jane Featherstone, who used her Bafta Television Lecture to warn that the international co-production tap would be "reduced to a trickle" in 12 to 18 months.
The report also suggested that Sky and BT's sports rights "do not do much" to fill the content gap, with little financial incentive for them or others to invest in big genres, let alone areas such as science, history, and religion.
It goes on to warn against a damaging impact on UK distinctiveness, risk-taking and innovation.
Hall said it is vital that the BBC, which has an annual content budget of £3.5bn, remains a "guardian" of UK production, and continues to modernise and back distinctive new ideas as it cannot compete purely on funding alone.
He added that the launch of BBC Studios as a commercial production arm will help in meet the content challenge, while BBC Worldwide continues to generate returns for licence fee payers.
"We should continue to be a bastion of brilliant British content, and the foundation-stone of a great British production and distribution economy, but to achieve this, we have to recognise that the environment around the BBC has changed dramatically, and we must change in response," he said.
"In the UK we often think of the BBC as a big player, but today the media market is truly global. In that vast solar system, we are tiny compared to the huge gas giants of the US. And every day they're getting bigger. That is why we must continue to innovate, back new ideas, and take creative risks."