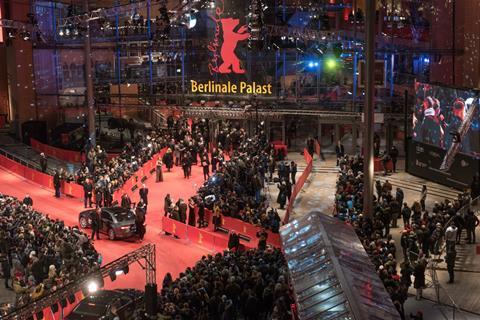 The Berlin International Film Festival will run four days shorter than previously planned for its in-person component, taking place from February 10-16 at venues across the city.
It was previously set to run until February 20.
Festival venues will also operate at 50% capacity, while there will be no parties or receptions for films.
Film teams will still have the opportunity to appear on the red carpet 'in a reduced format', with press in attendance. The in-person schedule also includes press conferences and photo calls; plus the European Shooting Stars presentation on February 14, and honorary Golden Bear award to Isabelle Huppert on February 15.
The festival award ceremony will take place on February 16.
New concept
The festival has developed what it calls a 'new concept' for the 2022 edition, which will run as 'an in-person 2G-plus event', with requirements for face masks and testing.
The festival had previously been set to take place from February 10-20; as confirmed last week, the European Film Market (EFM) and accompanying events will now run as an online edition.
EFM dates are still currently set as February 10-17; this would be the first time in recent years that the market has outstripped the festival in length.
The EFM digital offering includes exhibitor presentations at virtual booths; digital market screenings; the Berlinale Series Market; networking formats; and the EFM Industry Sessions conference programme, for which the theme is 'Shaping Change'.
The Berlinale Co-Production Market, Berlinale Talents and World Cinema Fund will all take place online.
"The decision to realise the EFM 2022 as a purely digital event was an extremely difficult one to make," said EFM director Dennis Ruh. "The great need for the sales industry to meet physically had been reflected in the considerable number of bookings for exhibition spaces, accreditation and physical market screenings.
"However, the high frequency of face-to-face encounters in regular market trading is not feasible at the moment. So, we are relying on our digital offers, which already proved their worth for the trade-fair business 'on remote' last year."
"With our new concept, we are focusing fully on the cinematic experience and reducing the formation of groups," said Berlinale co-directors Mariette Rissenbeek and Carlo Chatrian in a statement. "The key thing is to give audiences and film teams a collective experience of cinema with this changed concept, while reducing the number of face-to-face encounters in compliance with the corona regulations. Our international guests are keen to present their work on-site."
"We want the festival to send a signal to the entire film industry, to cinemas and moviegoers, and to culture as a whole," said Claudia Roth, who was appointed as German state minister for culture and media last month. "We need cinema, we need culture. Of course, in today's times, this can only be managed with some painful cuts and with constant vigilance."