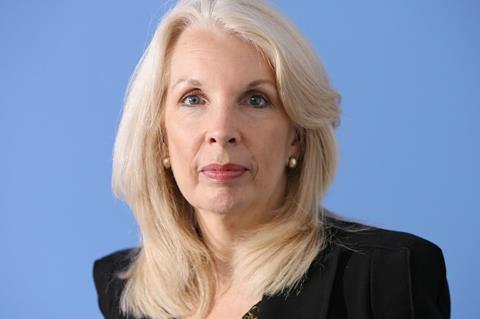 The British Film Institute (BFI) has officially begun the hunt for its new CEO, following the news last month that Amanda Nevill, who has held the role for 16 years, will be stepping down in 2020.
The wide-reaching search begins in earnest in the coming weeks, with a job advert set to be posted imminently. A headhunting company will also be appointed to identify potentially suitable candidates.
The BFI board will take the final decision on the appointment. While board members are appointed by the government's Department for Culture, Media and Sport (DCMS), the new CEO will be chosen via a process steered by chair Josh Berger, who is president and managing director for Warner Bros Entertainment across UK, Ireland and Spain. As chair, Berger will have a second, or casting vote, as per the BFI Charter.
On Berger's BFI board are Pete Czernin, founder of Blueprint Pictures, actor and filmmaker Idris Elba, documentary filmmaker Gerry Fox, Tim Richards, CEO of cinema chain Vue Entertainment, broadcaster Jonathan Ross, Robin Saunders of investment firm Clearbrook Capital Partners, Andrew Smith, corporate affairs director of Pinewood Studios, Phil Stokes of professional services company PricewaterhouseCoopers, and entertainment executive and former president, international of Sony Pictures Entertainment Andrea Wong.
A loose timeframe could see the first part of the process completed as early as August, with interviews beginning at that point. This would mean an appointment could be made by November.
A handover period would then take place between Nevill and the incoming new CEO. March 2020 is being discussed as the moment Nevill may vacate the role fully, but this will depend on a variety of factors, most notably the notice period that may need to be served by the new hire.
Potential candidates
Since the day Nevill's departure was announced, chatter began both inside the BFI and across the wider industry about who may be a candidate for the role.
Inevitably, several prominent UK film names have been discussed in industry circles as potential candidates. But the search will look beyond the film industry. Nevill herself arrived with a background largely in photography, having been at the Royal Photographic Society before taking over the National Museum of Photography, Film and TV in Bradford for nine years, prior to joining the BFI.
"Ensuring the search is inclusive and considers the widest possible range of candidates is front and centre of the recruitment process," said a BFI spokesperson. "Existing networks will of course be used but our headhunters are also working with new technology, databases and diversity specific networks. We are ensuring that the brief is open and that its language does not exclude any groups and the search will be national and international in its scope."
From the film side, the obvious frontrunner is Ben Roberts, deputy CEO of the BFI. Hired as director of the BFI Film Fund in 2012, the former Protagonist Pictures CEO was promoted to the newly-created role of deputy CEO in October 2018, giving him an expanded remit closer to Nevill while also retaining his stewardship of the Film Fund.
His promotion was seen by many, particularly inside the BFI, as a halfway point on his way to becoming Nevill's replacement. If that was to happen, that would then leave a vacancy at the head of the BFI Film Fund, a key role overseeing a large pot of UK public film funding.
But others suggest it is just as likely Roberts will remain in his present role, which retains a more creative focus through his Film Fund work, in comparison with the policy-focused CEO position. That would also provide some continuity at the head of the organisation.
The only other likely internal candidate could be Harriet Finney, who has impressed both internally and in wider industry and government circles since joining the BFI in 2017 as director of external affairs, the BFI's top policy role.
Further names from the film industry suggested to Screen as candidates for the CEO role include Bafta's chief executive Amanda Berry, CEO of Lionsgate UK & Europe, Zygi Kamasa, Film London and British Film Commission chief executive Adrian Wootton, Film4 director Daniel Battsek, and Cornerstone Films co-president Alison Thompson.
As Screen reported last year, the BFI CEO role had a salary of £146,000 in 2017-18, while total remuneration was in the £190,000-£195,000 bracket. That could rule out certain names who are thought to earn a lot more than that sum unless they were willing to take a pay cut.