Announcement coincides with the unveiling of six films by BFI graduates.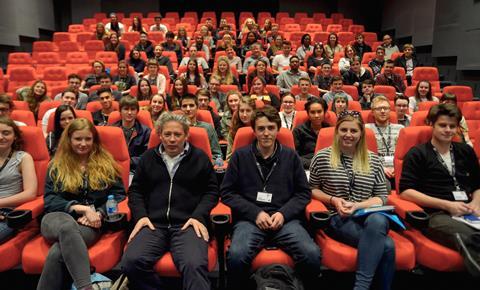 The UK's Department for Education has announced it will invest $1.4m (£1m) of funding to support the BFI Film Academy in 2016-17.
The boost is on top of the $5.6m (£4m) the DFE has invested in the Academy's residential and regional programmes since 2012.
The move came on the day that 66 young filmmakers from the BFI Film Academy unveiled six short films to British film industry figures including producers Alison Owen (Suffragette, Saving Mr. Banks), Faye Ward (Suffragette, Jane Eyre) and Duncan Kenworthy (The Pass, Love Actually).
The screening and graduation ceremony, held today at BFI Southbank in London, showcased films created as part of the BFI Film Academy course at the National Film and Television School.
BFI CEO Amanda Nevill said: "Talent is everywhere but opportunity is not, and the BFI Film Academy is designed to change that. If UK film is to stay relevant and move and inspire audiences around the world, then the stories it tells and the people who tell them need to represent and reflect the richness of life in the UK."
Now in its fourth year and open to young people from anywhere in the UK, the BFI Film Academy offers 16-19 year olds the opportunity to develop specialist filmmaking skills. The Academy offers bursaries to help those in need with costs in a bid to increase the diversity of those involved.
Based in 54 locations throughout the UK, the Academy has created close to 3,500 places for young people on courses run across the UK since 2012.
At the NFTS, the young filmmakers worked with British film talent including actor and directors Dexter Fletcher (Eddie the Eagle, Sunshine on Leith), Alex Garland (Ex Machina), Destiny Ekaragha (Gone Too Far!) and Sean McAllister (A Syrian Love Story), cinematographer Stuart Harris (Wetherby), film editor Ewa Lind (The Warrior), art department designer Max Berman (Game of Thrones) and sound recordist Simon Clark (Wolf Hall).
Previous BFI Film Academy students who have moved into the industry include Molly McGregor who is now working as a producer's assistant on Clio Barnard's Dark River; Elliot Wills who has gone on to work on ITV's Jekyll and Hyde; Leigh Reid, a post-production apprentice at Pinewood Studios; Ellidh Gow, now working as assistant editor at Create Studios; Byshhe Harkavy who has worked on events and programming at Manchester's HOME film and arts centre.
Others include Sam Jones and Pip Watkins who are making a film for Channel 4's Random Acts; Mdhamiri á Nkem who is now on an editing Masters at the NFTS; Daniella Rice, the youngest person ever to be accepted on a production management Masters at the NFTS; and Sam Hadden who has gone on to set up the Southend Short Film Festival.