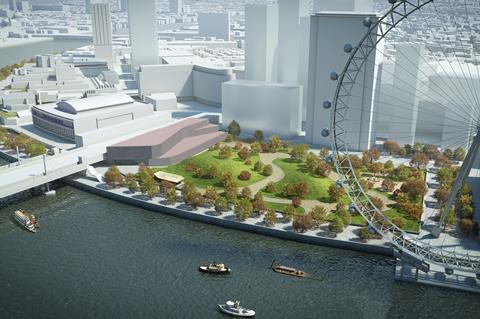 The BFI has abandoned plans to build a £130m national centre for film and television at the Hungerford Car Park site at South Bank, London.
The Architects Journal reports that the project fell through after the BFI concluded that it would not be able to secure full planning for the proposals before the end of 2019, a deadline linked to the lease requirements of the plot.
The building was originally set to open in 2022. The institue will instead look to refurbish their current BFI Southbank site.
In a statement to Screen, the BFI said: "In order to meet the requirements of the lease for the site there were time constraints which meant that project planning completion needed to be in place by the end of 2019. Due to the project's ambitious scale and complexity, a turbulent economic climate and shifting political environment, meeting this deadline was not possible."
They added: "The BFI is steadfastly committed to the culture of film and the future of the moving image, and we remain focused on the urgent and much-needed investment in our current home, BFI Southbank, planning to start in early 2018 with a major refurbishment project of BFI Southbank's Riverfront.
"We also continue to explore additional places where audiences, film-makers, artists and storytellers can learn and experiment with this dynamic art form and where creativity, technology and innovation can flourish."
The project has been in the works for many years. In November 2009, £45m was pledged by the Labour government to begin the development of a new centre for the BFI. But the plans were halted when the Conservatives were elected in 2010, who instead announced major cuts to the arts.
The new headquarters would've been designed by architect Ole Scheeren, with Bangkok-based Pace Developments funding, designing and constructing the site. Pace Developments offered to provide £87 million for the Film Centre. Last year an anonymous benefactor also pledged £87m toward the total cost.