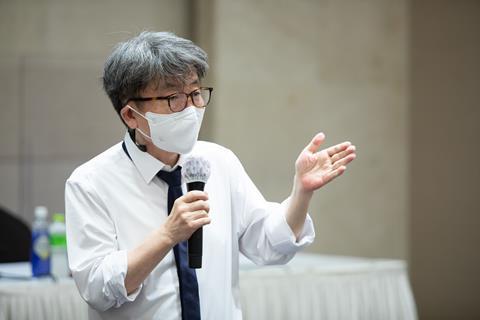 In South Korea, the 25th Bucheon International Fantastic Film Festival (Bifan) held a half-day forum (July 9) to discuss how the local film industry should move forward in the post-coronavirus era.
Festival director Shin Chul opened the forum with the question of how to define cinema these days: "With the rapid changes of recent times, you ask is Space Sweepers [which was produced for theatrical release, but went direct to Netflix after the pandemic forced its postponement and dips at the box office] a film? Is Kingdom [a Netflix original series with high production values] a film?"
Touching on how films and broadcasting were traditionally separate in South Korea with minimal crossover between production staff and crew before the pandemic, Shin continued, "In the past couple years, it seems to have completely changed. We now see film production crew members going to work on drama series and we stand and watch films shooting where it doesn't look much different from shooting a drama. So it's time we redefine the concept of cinema."
He added that the past 22 years since South Korea started promoting cinema through government initiatives "have produced tremendous results", but that now "we have to move beyond that to another stage."
Also participating in the forum was veteran producer and chairman of the Gyeonggi Film Commission, Lee Eun, who said of the Korean film industry: "We need to resolve monopoly, oligopoly, and polarisation, as well as communicate and exchange with the whole world.
"In Korea, 2019 was a peak boom, with the country ranking about number four [in film market size worldwide], but the biased structure was more extreme than ever, with the flip side of quantitative growth at its greatest in terms of leaning towards big-budget productions."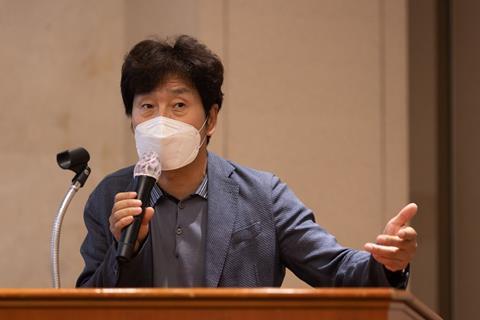 Lee posited that having five films at the box office get more than 10 million admissions apiece in 2019 was "in fact, not healthy", nor was having "cinema chains that own 98%" of the market. The lack of small-and-medium-size distributors to compete alongside CJ, Lotte, Megabox, Showbox, New and Acemaker movieworks was also problematic for the local industry, he argued, resulting in a lack of support for independent arthouse films whether international or local.
"At the same time, we watched the Netflix phenomenon make a complete soft landing in the Korean market during the coronavirus era, and last year mostly watched the local OTT market expanding as we asked ourselves what the future of films would become and whether cinemas would be able to continue to exist," he said.
His take on the Korean Film Council's mediation of a radical deal between exhibitors, broadcasters and distributors for two films – big-budget productions Escape From Mogadishu and Sinkhole, both of which had been pushed back during the pandemic – was that it was "preferential treatment" aiming to invigorate the market, but that even that move was being called into question because of a new, recent rise in Covid-19 cases in the country.
"We have the Korean Film Council and the Ministry of Culture, Sports and Tourism, but in reality there is an absence of will to create policy that promotes people's enjoyment of culture," Lee said, leaning into the view that cinema should be treated like "an object of exchange and not of trade".
Lee and others on the panel cited the example of France and called for stronger holdback windows, maximum screening caps, and tax collection from IPTV and OTT service providers that would go back into local productions.