EXCLUSIVE: Comedy-drama scripted by Frank Cottrell Boyce.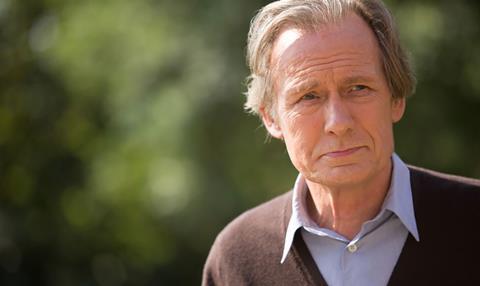 Bill Nighy, one of Britain's best loved character actors, is to star in Hurricane Films' Triple Word Score, a new feature scripted by Frank Cottrell Boyce (Hilary and Jackie, 24 Hour Party People).
The film is in the growing slate of features to be executive produced by Gibson & MacLeod - the outfit behind Hurricane Films' Emily Dickinson biopic, A Quiet Passion.
Triple Word Score will mark the directorial debut of Carl Hunter who has collaborated extensively with Cottrell Boyce on various other ventures including an award winning children's book and an online narrative project.
The supernatural comedy-drama follows the story of a father (Nighy) searching for his missing son, with whom he shared a passion for the board game Scrabble. The film is a journey of mystery, self-discovery and hope.
Shooting will take place this summer in the UK - in Liverpool and West Lancashire.
Liverpool-based Hurricane Films is the outfit owned and run by producers Sol Papadopoulos and Roy Boulter. Hurricane's long-time executive collaborators, Gibson & MacLeod, the executive production entity formed by Andrea Gibson and Mary MacLeod, cemented its first-look deal in Cannes with Hurricane having been the major entity behind the indie production company's A Quiet Passion, helmed by UK auteur Terence Davies as well as on the director's previous feature, Sunset Song.
A Quiet Passion premiered at Berlin Film Festival in February with Metrodome taking distribution rights for the UK. Sales agent is Double Dutch International.
"This is the culmination of several years groundwork - and the development of a creative relationship that has blossomed over several projects," Hurricane Films' Papadopoulos told ScreenDaily.
"Gibson & MacLeod have a great attitude to the scripts that we bring them and we are all incredibly proud of the films we have collaborated on so far and excited by those we are developing.
"Raising finance for independent features is always a challenge - but our deal with Gibson & MacLeod gives us the perfect opportunity to work with creative executive producers as well as leading UK talent."
Also included on the Hurricane/Gibson & MacLeod slate is Rum Doxy Diver - a Dickensian rom-com romp to be directed by Lindy Heymann from an adapted script by Leigh Campbell and inspired by the book Hammer by Sara Stockbridge.