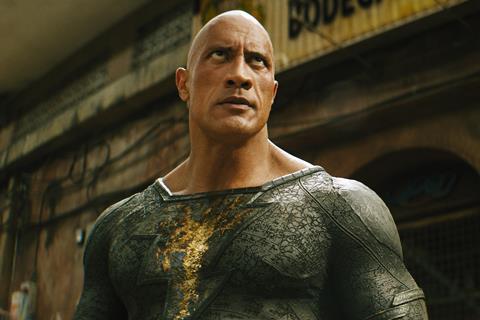 Black Adam star Dwayne Johnson has said the character will not feature in the "first chapter" of the recently established DC Studios.
In a message posted on social media on Tuesday Johnson said he spoke to DC Studios co-head James Gunn and the actor's Seven Bucks production company will continue exploring ways in which Black Adam can be included in DC storytelling down the line.
Black Adam opened in October via Warner Bros and delivered modest box office returns for a superhero origins story, earning $391m worldwide.
DC Studios has been in the news a lot recently after it emerged that Wonder Woman 3 has been shelved and Henry Cavill will no longer portray Superman as Gunn and DC Studios co-head Peter Safran focus on a younger actor.
Gunn and Safran are discussing their vision for DC Studios with Warner Bros Discovery head David Zaslav and details from the roadmap are is expected to emerge in the new year.
An excerpt from Johnson's statement appears below:
My passionate friends.
I wanted to give you a long-awaited Black Adam update regarding the character's future in the new DC Universe.
James Gunn and I connected, and Black Adam will not be in their first chapter of storytelling. However, DC and Seven Bucks have agreed to continue exploring the most valuable ways Black Adam can be utilized in future DC multiverse chapter.
James and I have known each other for years and have always rooted for each other to succeed. It's no different now, and I will always root for DC (and Marvel) to win and WIN BIG.
You guys know me, and I have very thick skin – and you can always count on me to be direct with my words.
These decisions made by James and DC leadership represent their vision of DCU through their creative lens.
After 15 years of relentless hard work to finally make Black Adam, I'm very proud of the film we delivered for fans worldwide. I will always look back on the fan reaction to Black Adam with tremendous gratitude, humility and love.
We did great.