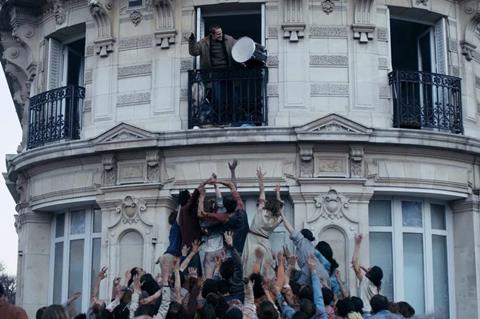 Blue Fox Entertainment has acquired North American rights to French zombie thriller The Night Eats The World ahead of its North American premiere in Tribeca on Saturday (April 21).
Dominique Rocher shot the film in French and English during production. Blue Fox plans to give the English-language version its world premiere through a US theatrical release this coming summer.
Tribeca screens the French version with English subtitles. Norway's Anders Danielsen Lie stars alongside Dennis Lavant and Golshifteh Farahani in the story of a man facing an army of undead in Paris, seemingly alone.
Carole Scotta of Haut et Court produced with the participation of Canal +, Ciné +, WTFilms and Haut et Court Distribution, with the support of CNC – Nouvelles Technologies en Production and SACEM, in association with Sofitvcine 4, Cofinova 13, Indéfilms 5.
Todd Slater brokered the deal on behalf of Blue Fox Entertainment with UTA Independent Film Group on behalf of the filmmakers.
Rocher co-wrote the screenplay with Jérémie Guez and Guillaume Lemans based on French author Pit Agarmen's novel La Nuit a Dévoré le Monde.
"We are thrilled to have Blue Fox and Tribeca introduce a new French talent to the North American audiences," Scotta said. "Dominique Rocher delivers a new take on the survival genre, he is a director to watch closely."
Blue Fox Entertainment added, "It is so refreshing to watch a zombie film with a unique voice in such a familiar genre. We know audiences will love it."
Blue Fox's most recent US theatrical releases include Becks starring Lena Hall, Mena Suvari and Christine Lahti, and Madame with Toni Collette, Harvey Keitel and Rossy de Palma.