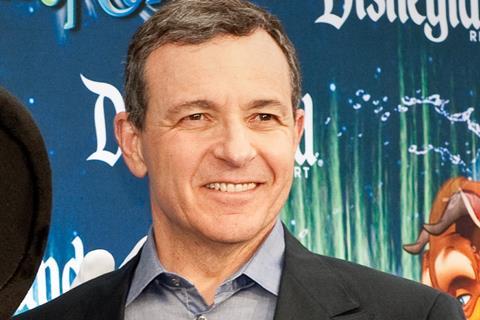 Disney chief Bob Iger told shareholders on Thursday (March 8) he has every intention of keeping Fox Searchlight, the specialty label that scored Oscar wins on Sunday for The Shape Of Water and Three Billboards Outside Ebbing, Missouri.
Iger's comments come as Disney negotiates the regulatory hurdles in its bid to pull off the $66.1bn acquisition of 21st Century Fox assets that includes debt, a process that could take at least another year.
While concerns swirl at Fox as to the future of its businesses and employees, Iger's comments echo early praise for Searchlight expressed to reporters after the acquisition was announced last December.
Speaking in Houston on Thursday, the Walt Disney Company chairman and CEO said, "We don't have any plans right now to change what they do. Frankly, we think they're doing just fine.
"We have every intention, once the acquisition is approved, to maintain the business of Fox Searchlight. We think they're in the business of making high quality films, recognised often by the Academy and all the Oscars that they've won. And we think there's ample opportunity for us as a company to continue to support those efforts."
Searchlight films earned 20 nominations and won four Oscars for The Shape Of Water including best picture, best director for Guillermo del Toro, best score, and best production design. Three Billboards Outside Ebbing, Missouri earned the best lead actress award for Frances McDormand, and best supporting actor for Sam Rockwell.
Iger also touched on other business at the annual investors meeting, saying that Disney's streaming platform to be headed by Agnes Chu is expected to launch towards the end of 2019. The unnamed OTT service will contain family-friendly fare, Marvel Studios content, Lucasfilm content – Jon Favreau just signed on to a live-action Star Wars series – and a possible reboot of The Muppets.
Disney's distribution via Netflix will end next year. The studio is launching an ESPN streaming service possibly as soon as spring at a price point of $4.99 a month.
Iger also took time to praise Black Panther and said he expected it to reach $1bn worldwide by the end of the weekend, unveiled first-looks from Solo: A Star Wars Story ahead of its May 25 release date, The Incredibles 2, Mary Poppins Returns, and 2019 release Avengers: Infinity War.
The chairman and CEO also said his memoir of his 44 years at Disney is due out in 2019.