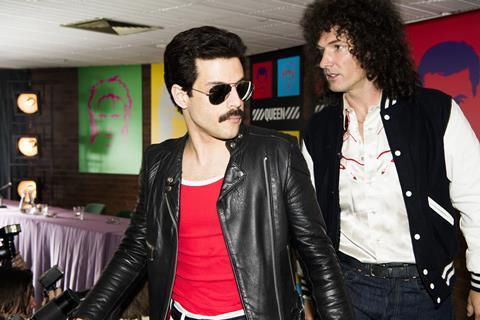 | | | | | |
| --- | --- | --- | --- | --- |
| Rank | Film / Distributor | Three-day gross (Oct 26-28) | Running gross | Week |
| 1 | Bohemian Rhapsody (20th Century Fox) | £6.4m | £9.5m | 1 |
| 2 | A Star Is Born (Warner Bros) | £2.1m | £19.2m | 4 |
| 3 | Halloween (Universal) | £1.7m | £5.8m | 2 |
| 4 | Smallfoot (Warner Bros) | £1.6m | £7.7m | 3 |
| 5. | Johnny English Strikes Again (Universal) | £1.5m | £14.1m | 4 |
Today's GBP to USD conversion rate - 1.28
20th Century Fox
With some cinemas still to report, Bohemian Rhapsody is the box office champion on its first weekend after making a strong start to its UK run. The Queen rock biopic capitalised on its £1.62m opening night last Wednesday with a £6.4m weekend. From 662 locations, it marked a £9,802 site average, and with last week's previews achieved a £9.5m total.
Compared to 2018's other musical success stories, this is ahead of The Greatest Showman's £4.8m bow and £7,760 average, but behind Mamma Mia: Here We Go Again!'s £9.8m start and £13,870 average.
Both of the latter went well into double figures for number of weeks in cinemas, and Fox will be hoping the good numbers for Rhapsody will mean the same.
Race and class drama The Hate U Give starring Amandla Stenberg started with £449,271 from 368 sites. Previews, plus a UK premiere and further screenings at the recent BFI London Film Festival, take the title up to £909,007 to date.
Bad Times At The El Royale took £35,404 on its third weekend and has passed £1m.
Warner Bros
Four weeks into its UK run and A Star Is Born continues apace, dropping just 26% for £2.1m over the weekend and second place. It has £19.2m so far, and with the soundtrack album back at the top of the UK music charts, Warner will hope for a similar trajectory to The Greatest Showman.
Animation Smallfoot was the biggest beneficiary of the half-term holiday, with a 14% increase to £1.6m. It has £7.7m to date after three weeks.
30th anniversary screenings of cult classic Beetlejuice brought in £33,000 from 67 sites for a £493 site average.
Crazy Rich Asians picked up £41,000 for a £5.8m running total, while Corin Hardy's horror The Nun took £15,000 for £11.4m cume.
Universal
Franchise reboot Halloween dropped 37%, taking £1.7m across its second weekend for third place in the chart and a £5.8m cume. This drop was less than the 58% decrease seen in America, but the film didn't achieve such a stellar debut in the UK.
Johnny English Strikes Again marked its fourth weekend with £1.5m, and is up to £14.2m total – the previous franchise totals were £19.7m (2003's Johnny English) and £20.7m (2011's Johnny English: Reborn).
Neil Armstrong biopic First Man fell 54% on its third weekend, with £602,357 Friday-Sunday and a £6.6m total.
US comedy Night School starring Kevin Hart and Tiffany Haddish took £108,585 on its fifth weekend, and is now up to £4,411,772.
Sony
Goosebumps 2: Haunted Halloween benefitted from the upcoming seasonal celebration plus the half-term footfall with a £1.4m weekend, a 3% uptick that takes it to £4.9m. After two weeks, the film is over halfway to the first title's £9m total.
Tom Hardy-starrer Venom took £850,000 at the weekend and is now up to £18.5m after four weeks.
Disney
Family animation Incredibles 2 continued its long tail, with a small 6% drop for £25,000 and a £56m total, assisted by the half-term last week. Christopher Robin dropped 50% with £38,000 and is now on £14.7m total.
Lionsgate
Gerard Butler submarine thriller Hunter Killer took £75,020 in its second week for a £698,321 total, and will fall short of Butler's previous title, 2018's Den Of Thieves.
A Simple Favour starring Anna Kendrick and Blake Lively is on £5.1m, adding £12,366.
Entertainment One
The House With A Clock In Its Walls slipped a small 17% for £144,566 and an £8,045,566 total after six weeks.
Picturehouse
Picturehouse's The Wife continued its strong UK run with £40,158 on its fifth weekend for a £1.5m running cume.
An Evening With Beverly Luff Linn took £2,770 from 8 venues across the weekend, and has £7,876 including previews.
Signature Entertainment
Sundance hit and Danish foreign-language Oscar entry The Guilty opened to £5,000 from 8 sites for a £625 average, with further sites to add in the coming weeks.
Vertigo Releasing
Fahrenheit 11/9 from US documentarian Michael Moore took £11,032 and is now on £91,936. It will look for a boost from the upcoming US midterm elections on November 6, connecting to the film's political subject matter.
The Intent 2: The Come-Up is now up to £439,335.
Modern Films
Utoya – July 22, Erik Poppe's retelling of the Norway terrorist attack through the figure of a teenage girl trying to survive it, took £5,979 from 25 sites at the weekend. With previews of £13,184, the film has totalled £19,163 so far.
Mubi
Gus Van Sant's Sundance premiere Don't Worry, He Won't Get Far On Foot starring Joaquin Phoenix and Jonah Hill opened on 11 screens and has £4,229 after the weekend.
Berlin Golden Bear winner Touch Me Not has £5,457 after its second week.
Park Circus
Previews at four locations of Sam Raimi's 1982 horror classic The Evil Dead brought in £1,165; while Nicholas Cage action horror Mandy took £20,328 for a £118,749 total to date.
Eros International
Hindi romantic comedy sequel Namaste England added £10,839, and is up to £100,339, some way from the 2007 first film's £870,150 total.