Tennis drama stars Shia LaBeouf and Sverrir Gudnason.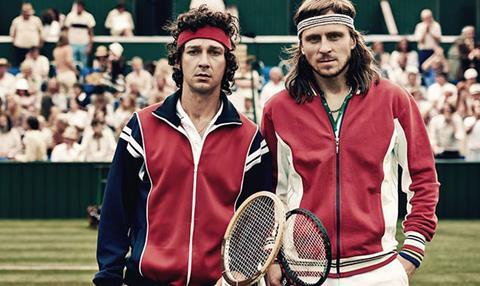 The world premiere of Borg/McEnroe will kick off the 2017 Toronto International Film Festival (7 Sept – 17 Sept).
The film, directed by Janus Metz and starring Shia LaBeouf, Sverrir Gudnason and Stellan Skarsgård, will screen at the Roy Thomson Hall on September 7.
Piers Handling, director and CEO of TIFF, said in a statement: "Borg/McEnroe has a powerful tension about it that is on par with the electric energy of Toronto on opening night."
Tennis drama Borg/McEnroe tells the story of the rivalry between the cool swede Bjorn Borg and hot headed American John McEnroe, which culminated in their epic 1980 Wimbledon final.
SF Studios is handling international sales of the film.
Other titles at this year's Toronto International Film Festival include Darkest Hour, which stars Gary Oldman as Winston Churchill; real-life skating drama I, Tonya with Margot Robbie; The Mountain Between Us starring Idris Elba and Kate Winslet and Thomas Edison drama The Current War with Benedict Cumberbatch and Michael Shannon.
Olivier Nakache and Eric Toledano's C'est la vie! is the closing night film.
Read more:
TIFF 2017: 'Kings', 'Stronger', 'mother!' among line-up